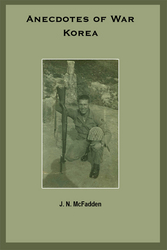 Pittsburgh, PA (Vocus) July 1, 2010
RoseDog Books is pleased to announce the publication of Anecdotes of War: Korea ($20.00) ISBN: 978-1-4349-9663-3, paperback. For more information, please contact RoseDog Books, at 701 Smithfield Street, Pittsburgh, PA 15222. To place a book order or to learn important information about shipping prices, tax, and our return policy, please call (800) 834-1803.
McFadden was born in London, Kentucky, in 1932, where he attended both grade and high school. McFadden joined the Kentucky National Guard's 149th Infantry in 1948. After high school, he married his high school sweetheart, Peggy.
McFadden served in both the Korean and Vietnam wars. During his twenty-nine years in the military, he attended numerous schools. He holds a degree in accounting.
McFadden retired as a chief warrant officer in aviation. As a civilian, he attended the Command and General Staff College for Combat Developers. He also instructed aviation maintenance officers (AMOC) in aviation technology. He ended his government career with thirty years of dedicated service and moved back to Kentucky and the good life with his military wife, Peggy, of fifty-six years.
###