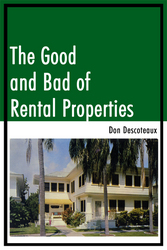 Pittsburgh, PA (Vocus) July 1, 2010
In The Good and Bad of Rental Properties, Don Descoteaux draws on his thirty-five years of experience to share a realistic and informative depiction of the opportunities available to those considering rental investments.
Mr. Descoteaux describes how he entered into the business and candidly reveals the lessons he learned over time. With minimal initial capital available, he managed over time to secure a comfortable income and considerable independence. From how to deal with difficult tenants to negotiating city inspection requirements, the reader will benefit from the author's on-the-job training. After considering the financial rewards and the possibility of long-term benefits and weighing those against the challenges that are certain to arise, Mr. Descoteaux leaves his audience better prepared to anticipate and prepare for the journey ahead.
RoseDog Books is pleased to announce the publication of The Good and Bad of Rental Properties ($12.00) ISBN: 978-1-4349-9698-5, paperback. For more information, please contact RoseDog Books, at 701 Smithfield Street, Pittsburgh, PA 15222. To place a book order or to learn important information about shipping prices, tax, and our return policy, please call (800) 834-1803.
###