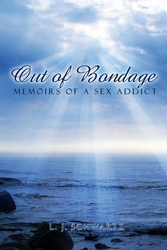 Pittsburgh, PA (Vocus) July 1, 2010
This book is the story of his journey from childhood through physical, emotional, and sexual abuse; years of sexual addiction; and subsequent recovery in his early forties.
"In this eye-opening memoir, L.J. Schwartz shines a bright light on one of the darkest corners of the human condition: sex addiction. With stunning clarity and unflinching candor, Schwartz leads the reader on his harrowing personal journey—from a childhood rocked by abuse through years of compulsive sexual behavior and ultimately to a place of peace, resolution, and sobriety. Along the way, he provides a singular perspective on the many facets of addiction and points the way toward treatment and recovery for millions of Americans facing similar afflictions. In this deeply personal and affecting memoir, Schwartz delivers an invaluable contribution to our understanding of addictive behaviors and makes a significant addition to the growing body of literature on addiction medicine. A triumph!"

Nick Tate, Fort Lauderdale Sun-Sentinel
About the Author
L. J. Schwartz resides in Ft. Lauderdale, Florida, with his wife and two pugs. He is currently sponsoring other addicts with their recovery. He also created and monitors an Internet website for sex addiction: http://www.recoverymonologue.com
RoseDog Books is pleased to announce the publication of Out of Bondage: Memoirs of a Sex Addict ($18.00) ISBN: 978-1-4349-9606-0, paperback. For more information, please contact RoseDog Books, at 701 Smithfield Street, Pittsburgh, PA 15222. To place a book order or to learn important information about shipping prices, tax, and our return policy, please call (800) 834-1803.
###