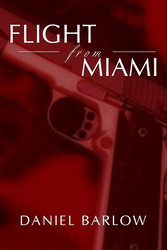 Pittsburgh, PA (Vocus) July 1, 2010
The streets of Miami are the setting for this fast-paced action story of murder and intrigue.
Scott Strum thought he had been through the worst in combat. Little did he know his life was about to be filled with unbelievable danger. What is worse is the man behind it might be the only man he thought he was able to truly trust in the world.
About the Author
Daniel Barlow currently resides in Okinawa, Japan. He is stationed on MCB Camp Foster and returned from his last deployment to Iraq in 2008. He attended trade school and junior college while living in Pensacola, Florida, and he has a four-year technical degree and an associate's degree. He is currently on active duty in the United States Marine Corps.
RoseDog Books is pleased to announce the publication of Flight from Miami ($23.00) ISBN: 978-1-4349-9599-5, paperback. For more information, please contact RoseDog Books, at 701 Smithfield Street, Pittsburgh, PA 15222. To place a book order or to learn important information about shipping prices, tax, and our return policy, please call (800) 834-1803.
###