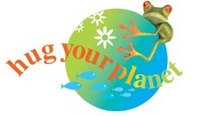 Boston, MA (PRWEB) July 1, 2010
Do you compost, recycle, re-use or re-purpose something in a really creative way? Do you use the sun, wind or water to power something? Have you discovered a new way to give something a second life?
We want to see what local people and their families are doing to hug the planet. One person will win a trip to the Planet Hugger Boston event on July 24/25, including green transportation to and from the event.*
Site visitors are asked to submit a photo or a one-minute video demonstrating something they do at home that makes their household eco-friendly. A 100 word written explanation of how it helps the earth is required with the submission. Submissions will be accepted until Thursday, July 15th at noon. A panel of judges from Dow Jones Local Media Group will decide on the winner and notify them by noon on Monday, July 19th.
The winning submission will receive:

Day trip essentials to attend the event including: overnight hotel accommodations, green transportation to the event*, food allowance and a family pack of (4) event tickets.
Winning submission on display at the show with all other submissions
Transportation provided within 150 miles of the Seaport World Trade Center in Boston, MA
Want to find another way to learn about our planet and keeping it green? Sign up for the weekly eGreen Newsletter at http://www.planethuggerboston.com/egreen. Sign up thru July 14th for another chance to win tickets to the PlanetHugger Boston event!
ABOUT DOW JONES LOCAL MEDIA GROUP
Dow Jones Local Media Group (http://www.dowjoneslmg.com), operates eight community media groups around the country that collectively are comprised of 8 daily and 15 weekly newspapers, several lifestyle magazines and other niche publications, and a multitude of affiliated Web sites in seven states.
ABOUT DOW JONES & COMPANY
Dow Jones & Company (http://www.dowjones.com) is a News Corporation company (NASDAQ: NWS, NWSA; ASX: NWS, NWSLV; http://www.newscorp.com) and a leading provider of global news and business information. Its principal products include The Wall Street Journal, Dow Jones Newswires, Dow Jones Factiva, Barron's and MarketWatch. Dow Jones also provides news content to television and radio stations.
###