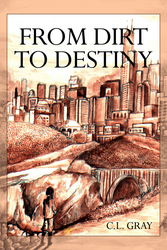 Pittsburgh, PA (Vocus) July 1, 2010
This is the inspiring memoir of a young woman brought up by drug-addicted parents in a world of dysfunction, struggling to discover her true direction in life. In this project, C. L. Gray shares her story of personal triumph, tragedy, and prevailing fate, along with all of the sorted life's characters encountered in between.
Now that she has overcome, she offers her story to both impart hope and challenge others to find their own purpose in living. No one ever said it would be easy, but the fight makes the victory that much sweeter.
RoseDog Books is pleased to announce the publication of From Dirt to Destiny ($17.00) ISBN: 978-1-4349-9682-4, paperback. For more information, please contact RoseDog Books, at 701 Smithfield Street, Pittsburgh, PA 15222. To place a book order or to learn important information about shipping prices, tax, and our return policy, please call (800) 834-1803.
###