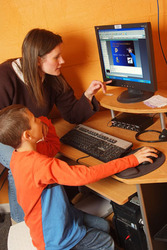 We are looking forward to the start of the 2010-2011 school year as Kansas Connections Academy and the opportunity to build upon our previous success
Elkhart (Vocus) July 1, 2010
Kansas Connections Academy (KCA), the tuition-free, statewide virtual public school that students attend from home, has opened enrollment for the 2010-2011 school year. Students residing in Kansas who are entering grades K-12 in the 2010-2011 school year are eligible to attend KCA. Information Sessions to introduce Kansas Connections Academy to interested families have been planned in communities across the state (see details below).
A state-approved program of the Elkhart Unified School District 218, KCA opened in August 2001 as Elkhart Cyber School and successfully served students throughout Kansas through the 2009–10 school year. The school recently became KCA, and the program is now run in partnership with Connections Academy of Kansas, LLC, to provide the educational program and other services such as guidance services and student clubs and activities. Principal Sherri Hurn, who has led the school since its inception, will continue at the school's helm; its administrative and teaching center will also remain at the same location in Elkhart.
"We are looking forward to the start of the 2010-2011 school year as Kansas Connections Academy and the opportunity to build upon our previous success" commented Sherri Hurn, principal of Kansas Connections Academy. "The main foundation of our program, a focus on close interaction between the student and the teacher, will not change. We are excited about what we are able to offer with KCA. Our teachers will have many more resources available to use with students and our students will have more opportunities for interaction with one another through clubs and face-to-face activities and field trips. The demand for virtual education in Kansas continues to grow and we are confident that Kansas Connections Academy will serve as an innovative and high-quality option for families seeking a personalized and flexible approach to education."
Informational parent meetings about KCA and its curriculum will be held in communities across the state over the summer and online. Additionally, families seeking more information about KCA can call 1-800-382-6010 or visit http://www.connectionsacademy.com. August 16th will be the first day of school for the 2010-2011 KCA school year.
IN-PERSON INFORMATION SESSIONS
LAWRENCE
Monday, July 12, 2010 at 6:30 PM
Holiday Inn, 200 McDonald Dr., Lawrence, KS
KANSAS CITY
Tuesday, July 13, 2010 at 11:00 AM
Hilton Garden Inn, 520 Minnesota Ave., Kansas City, KS
OLATHE
Tuesday, July 13, 2010 at 6:30 PM
Holiday Inn, 101 W 151 St., Olathe, KS
WICHITA
Tuesday, July 20, 2010 at 6:30 PM
Holiday Inn, 549 S. Rock Rd., Wichita, KS
SALINA
Wednesday, July 21, 2010 at 11:00 AM
Candlewood Suites, 2650 Planet Ave., Salina, KS
TOPEKA
Wednesday, July 21, 2010 at 6:30PM
Holiday Inn Express, 901 SW Robinson Ave., Topeka, KS
EMPORIA
Thursday, July 22, 2010 at 11:00AM
Candlewood Suites, 2602 Candlewood Dr., Emporia, KS
DODGE CITY
Monday, July 26, 2010 at 6:30PM
Holiday Inn Express, 2320 W Wyatt Earp Blvd., Dodge City, KS
GARDEN CITY
Tuesday, July 27, 2010 at 6:30PM
Hampton Inn, 2505 Crestway Dr., Garden City, KS
ONLINE INFORMATION SESSIONS
All real-time online information sessions with a Kansas Connections Academy representative occur at 6:30 PM. Please visit http://www.ConnectionsAcademy.com to reserve your space online. Join us:?

Thursday, July 15th
Monday, July 19th
Thursday, July 29th
Monday, August 2nd
Monday, August 9th
Monday, August 16th
Monday August 23rd
KCA gives students the flexibility to learn at home with a curriculum that meets rigorous state education standards. The program combines Kansas-certified teachers, a standards-aligned curriculum, unique technology tools, an extensive selection of electives and clubs, and community experiences to create an individualized alternative to the bricks-and-mortar classroom. All KCA students participate in the nationally certified Connections Academy program that includes a print-rich curriculum that combines high quality textbooks from leading publishers with cutting-edge, yet easy-to-use, technology resources and hands-on materials. Learning from home, students will work closely with their parents, or other "Learning Coaches" and a licensed Kansas teacher using detailed daily lesson plans that can be personalized to meet individual student needs.
Interaction between teachers and students is frequent. Accountability is central to the school's mission and students must meet the same levels of accountability and complete the same state standardized tests as traditional public schools. KCA serves a wide range of Kansas students, including those who are significantly ahead or behind in the classroom; students who would benefit from more individualized instruction; or who require a flexible school schedule.
KCA joins the national network of 18 Connections Academy schools in 17 states which expects to serve over 25,000 students in the 2010–2011 school year. Connections Academy is accredited by AdvancED, an organization representing 27,000 public and private schools and districts across the United States and in 65 countries worldwide. Parents' and educators' growing demand for this exceptional public school program spurred a 30 percent growth in the national Connections Academy school network for the 2010-2011 school year. This increase in demand – both on the part of parents and students as well as educational partners – stems from CA's proven track record in helping students achieve their maximum potential for academic and emotional success.
About Connections Academy
Connections Academy is a leading national provider of high-quality, highly accountable virtual public and private schools in the U.S. for students in grades K–12. Connections Academy schools deliver top quality, personalized education for students that combines certified teachers, a proven curriculum, technology tools, and community experiences to create a supportive and successful environment for children who want an individualized approach to education. In Connections Academy's Personalized Performance Learning® approach, students use daily lesson plans and curriculum materials provided by Connections Academy. Teachers develop a learning plan for each student, whose progress is tracked through a proprietary, web-based Learning Management System. During the 2009–10 school year, Connections Academy served students in Arizona, California (Southern and Central), Colorado, Florida, Idaho, Minnesota, Nevada, Ohio, Oregon, Pennsylvania, South Carolina, Texas, Wisconsin, and Wyoming through its public school programs. It serves students in all states in the U.S. through the online private school, National Connections Academy. New public school programs will be added in the 2010–11 school year. Connections Academy offers grades K through 12, though some schools do not offer all grades. For more information, call 800-382-6010 or visit http://www.ConnectionsAcademy.com
CONTACT:
Allison Bazin, Connections Academy Public Relations
(609)247-0275 or abazin(at)connectionsacademy(dot)com
Sandy Burke, Athena Public Relations
(203)655-3475 or sandy(at)athenapr(dot)com
###