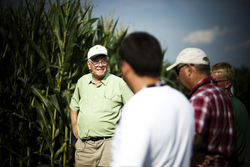 The Stoller tech session is designed to be an up close and personal look at how to be proactive in managing crop health.
Houston, TX (PRWEB) July 6, 2010
StollerUSA is schedule to present the technology of maximizing genetic expression in plants at the 3rd annual Corn College sessions during the week of July 19-23 in Bloomington, Ill.
Corn and soybean farmers have registered for the event hosted by Farm Journal, in efforts to learn new progressive solutions for enhancing yields and keeping plants healthy. Last year, over 400 growers attended from around the country, and this year the organizers of Corn College are expecting over 800 people.
As a sponsor of the 2010 Corn College, Stoller will lead Technology Sessions to exchange ideas and information with the participants. The valuable insights on corn and soybean production will be presented as a hands-on learning experience.
In the Technology Session program, StollerUSA will unveil root comparisons from a nearby Illinois test plot. In a hands-on evaluation and examination of plant roots, farmers will better understand how to study the plants in their own fields. Stoller technology focuses on root health as integral to the overall yield potential of a crop. If farmers are well-informed, Stoller contends they can recognize and address yield-robbing issues before it is too late.
"Healthy roots and healthy plants are the foundation for a good crop. Stoller products focus on managing the stresses and stress hormones that negatively impact a plant's potential. The Stoller tech session is designed to be an up close and personal look at how to be proactive in managing crop health through some simple plant examination techniques" states Dr. Wayne Smith—plant physiologist and General Manager of StollerUSA.
Stoller's expertise in maximizing the genetic expression of crops is based on the management of plant hormone levels throughout the life cycle of the plant, allowing for optimal performance under any condition.
For more information about Stoller success stories or to follow involvement at Corn College, visit Stoller's blog at http://www.stollerusa.com/blog.
StollerUSA is dedicated to helping producers enhance yields by maximizing genetic expression. The result is enhanced marketable yield, improved return-on-investment and improved tolerance to disease and other stress. Only Stoller products contain Stoller's proprietary technology that is proven to ensure optimum plant growth by maintaining appropriate hormone balance in combination with supporting nutrients. Tested by Universities nationwide, Stoller's unique formulations result in healthier, more productive crops that are better able to withstand stress and achieve their full genetic potential.
About StollerUSA
In agribusiness for more than 40 years, StollerUSA markets a full line of products to help farmers increase crop yield and quality. StollerUSA, headquartered in Houston, is actively engaged in basic and practical research to enhance crop productivity in more than 50 countries.
###