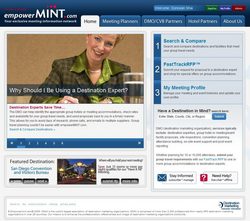 empowerMINT.com features more than 100 CVB profiles and provides robust contact information on hundreds of associated destination experts, who can help meeting planners figure out their convention logistics.
Washington, D.C. (PRWEB) July 2, 2010
A gigantic oil spill, a wrenching flood, immigration controversy—times of crises often fuel media frenzies, and precise, useful information can get lost in the translation. The unprecedented developments of late have caused serious challenges for meeting planners, who have invested significant time and money in their itineraries and remain responsible for advising their staff and attendees on meetings headed to conference facilities located in areas beset by recent natural and manmade disasters or controversies. Fortunately, by speaking with destination experts from the official Destination Marketing Organization (DMO), planners can get the most informed, up-to-date, accurate details directly from the source. The DMO's destination experts will talk to meeting planners about any concern and help with any necessary change in plans, and through empowerMINT.com—which features profiles on more than 100 CVBs—a meeting planner can obtain robust contact information in short order and connect with the right destination expert in minutes.
"All events are subject to interpretation, and interpretation leads to confusion … that is even before spin and political objectives get layered on top of any type of reporting," said Kevin Kamenzind, vice president of sales for the Greater Phoenix CVB. "The DMO is a trusted resource. We have one clearly defined mission, which is to best serve the planner with integrity. We are not looking just to bring them to our destination once, but to have them prefer our destination for reoccurring meetings. Therefore, we benefit from being 100 percent honest."
In addition, most DMOs have a team of public relations and communications specialists that can craft just the right message for a meeting planner's attendees and exhibitors. DMOs' teams know the details and truth of what is happening in the community and how to relay these facts to any meeting planner's membership.
Meeting planners may complete free registration at empowerMINT.com. Doing so automatically adds them to a list that receives empoweringNews, empowerMINT.com's biweekly e-newsletter highlighting important information on CVBs and their meeting facilities in the Northeast, West, Midwest, Southwest and Southeast regions of the United States, as well as Canada and Puerto Rico. Additionally, any registered member of empowerMINT.com may create a profile and thus gain access to their meetings' post-event reports, serviced by empowerMINT.com's DMOs and CVBs.
Should event planners have concerns about upcoming meetings they have planned, empowerMINT.com can help connect them to the top 100-plus destinations. Or, by simply entering a destination name on the homepage at empowerMINT.com, a meeting planner may quickly connect with the destination he or she is seeking—even in regions affected by recent events, such as the following:
Nikki Nicholson
VP of Sales, New Orleans CVB
504 566-5034
nnicholson(at)neworleanscvb(dot)com
Kevin Kamenzind
Chief Marketing Officer, Greater Phoenix CVB
602 452-6212
kkamenzind(at)visitphoenix(dot)com
Richard Vaughan
Senior VP, Sales & Marketing, Tucson Metro CVB
(520) 624-1817
rvaughan(at)visittucson(dot)org
Kay Witt
Senior Vice President of Sales, Nashville CVB
615-259-4719
kayw(at)visitmusiccity(dot)com
Pamela Watkins
Director of Sales, Beaches of South Walton, FL TDC
850-267-1216 x128
pwatkins(at)beachesofsouthwalton(dot)com
Norwood Smith
Vice President of Sales, Tampa Bay & Company
813-342-4061
nsmith(at)visittampabay(dot)com
Sharon Kingston
Director of Sales, Bradenton Area CVB
941.729.9177 x243
sharon(dot)kingston(at)mymanatee(dot)org
About Destination Marketing Association International
Destination Marketing Association International (DMAI) is the world's largest and most reliable resource for official destination marketing organizations (DMOs). Dedicated to improving the effectiveness of professionals from over 600 DMOs worldwide, DMAI's membership represents more than 3000 DMO professionals, students, educators, and industry partners in over 30 countries.
About empowerMINT.com
More than 100 official destination marketing organizations (also called DMOs or CVBs) have collaborated to create empowerMINT.com, the industry's first collective portal of meeting destinations and the largest repository of post-event reports. Powered by Destination Marketing Association International (DMAI), empowerMINT.com is the fastest and easiest way for meeting professionals to send a request for proposal (RFP) to one or multiple destinations and connect directly with a local destination expert who can help planners save time and money, offer unbiased destination expertise and provide qualified lead distribution, all for free.
In addition, to simplifying the search for destinations based on the planners' requirements, empowerMINT.com allows access to the planners' post-event report, through the planners' profile. DMAI is advocating for accurate and complete histories since this data plays an important role in business qualification and negotiations for DMOs, hotels and planners.
Anyone interested in learning more about empowerMINT.com may contact Christine "Shimo" Shimasaki, managing director of empowerMINT.com, available at 858-935-9179 or shimo(at)destinationmarketing(dot)org.
# # #