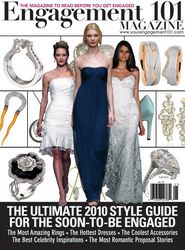 "Unfortunately, just a few jewelers have succeeded in branding themselves to young consumers," says editor in chief Severine Ferrari. "Most couples about to get engaged are clueless about engagement ring brands.
New York, NY (PRWEB) July 6, 2010
Engagement 101 TV just released their four-webisode mini series about Las Vegas Jewelry Week on their community site http://www.yourengagement101.com and Youtube. Every year during the first week of June, thousands of jewelers and retailers from all over the world gather in Las Vegas for the largest jewelry convention of the year. Many celebrities come to the event for star-studded VIP parties. The Engagement 101editorial team tweeted and blogged live from Vegas throughout the week. They highlighted new engagement rings and bridal jewelry trends, shared their excitement and gathered lots of new shopping tips.
Engagement 101 TV's new mini series, which is edited by Lisa Hammer, offers couples about to get engaged a front row seat as jewelry designers present their latest creations at JCK Events, which are held at the Venetian Hotel, and Couture Jeweler Las Vegas, at the Wynn. Engagement 101's cameras also captured exclusive red carpet coverage of Simon G's Summer Soiree event where they got exclusive interviews from celebrities such as Twilight's Nikki Reed, Real Housewives of New York City's Kelly Bensimon, E! stars Guiliana and Bill Rancic and Dancing With The Stars' Melissa Ryecroft to name a few.
Over 2 million couples get engaged in the U.S. every year. Most of them will invest in an engagement ring as a symbol of their commitment as well as two wedding bands, bridal jewelry and gifts as they plan their wedding. This market is estimated to be worth well over $1 billion dollars a year.
Engagement 101 is a multimedia platform (print-digital-online-webtv) for couples about to get engaged. From marriage proposal etiquette , creative and romantic proposal ideas, to thousands of unique engagement ring styles and useful diamond buying tips, Engagement 101 is the first and only engagement magazine exclusively dedicated to couples planning an engagement.
# # #