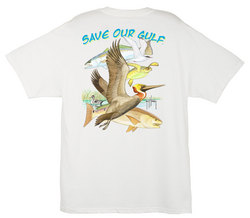 We take our marine resource very seriously, and have a long history of supporting a better understanding of the marine world. We know we can help make a difference.
Irvine, CA (PRWEB) July 12, 2010
AFTCO Bluewater, the official licensee and manufacturer of Guy Harvey fishing t shirts, clothing, and coastal lifestyle apparel, and Guy Harvey, known as the world's premier marine wildlife artist and renown marine biologist and conservationist, today announced the release of two special edition fishing t shirts, created specifically to raise funds for protection of marine life impacted by the oil spill in the Gulf of Mexico.
The effects of the oil disaster in the Gulf of Mexico will be felt for some time. Much of the damage to marine life is not yet even known. While the highly migratory fish species will be able to avoid the oil, the juvenile stages cannot. Neither can air-breathing turtles, seabirds, and mammals that must interact with the surface. The responsible party, BP, is supposed to reimburse the affected fishermen and fund cleanup efforts along the coastline but little attention is being paid to the Gulf fisheries. The spawning grounds of bluefin tuna, who have been commercially overfished to the point of near-collapse, as well as tarpon, snook and redfish will be impacted as the oil spreads along the shoreline. Money is needed to help research just how these and other marine life species will be impacted, and to understand how those impacts can best be dealt with to support Gulf marine life.
To help provide those funds, Guy Harvey has created two Gulf of Mexico fishing t shirt designs. The first delivery of the t shirts will be July 14. Ten dollars of the $20.00 retail price will be donated to a special account within the Guy Harvey Ocean Foundation (GHOF) who will then direct the money to research projects and support efforts that Guy and the GHOF believe will provide the greatest benefit to marine life in the Gulf.
Unlike many other efforts to tie products into a cause that are more marketing-focused than cause-supported, this effort is both unusual and sincere. It reflects the serious marine resource interests of Guy Harvey and his clothing partner AFTCO Bluewater, who both have a long history of supporting a better understanding of the marine world.
This donation effort includes all who are involved with the Guy Harvey fishing t shirt business. Six dollars of the donation will come from Guy, AFTCO Bluewater and its suppliers, and from our retail partners. The other four dollars will come from general GHOF funds, part of which, are generated from the proceeds of all other Guy Harvey Sportswear sales. While many people don't know it, Guy Harvey sportswear sales have, for years, generated money to help the marine resource. In 2009, AFTCO Bluewater contributed over $200,000.00 from Guy Harvey Sales to the GHOF for their use to help protect, conserve, enhance and better understand the marine resource.
"We at AFTCO Bluewater, along with our partner Guy Harvey, take our marine resource very seriously," said Bill Shedd, President of AFTCO, "and have a long history of supporting a better understanding of the marine world. While a portion of every sale of Guy Harvey Sportswear goes to preserving our precious marine resource, this t shirt allows us to focus special attention on the issues in the Gulf. We know we can help make a difference."
These special edition "Save Our Gulf" fishing t shirts can be purchased from any number of Guy Harvey Sportswear retailers, online or at stores located throughout the US, or they can be purchased direct from the official Guy Harvey online clothing store at http://www.guyharveysportswear.com/save-our-gulf-t-shirts.htm
View the CNN interview with Guy Harvey on July 11, 2010.
About Guy Harvey Sportswear
Guy Harvey Sportswear represents a full line (over 7,000 styles and sizes) of high quality Guy Harvey Men's fishing t shirts featuring his extraordinary detailed paintings of big game fish like marlin, sailfish, tuna and more, in addition to other men's fishing clothing like tech and performance shirts, fishing shorts, fishing hats, belts, shoes, and sandals. There is also a wide selection of Women's clothing including dresses, skirts, shorts, knits, tanks, and tops, in addition to popular new Junior's and Young Men's t shirt lines featuring more youthful designs and a slimmer cut. The Youth department includes fishing shirts, t shirts, and hats. Guy Harvey Sportswear is available at many retail locations as well as online at http://www.guyharveysportswear.com. (A retailer locator is available on the site.)
Media Contact for Guy Harvey Sportswear:
Laura Hernandez
laura(at)aftco(dot)com
949-660-8757
###