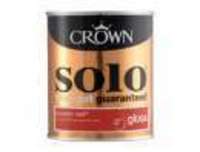 Independent advice you can trust
(PRWEB) July 1, 2010
(PRWEB) July 1, 2010 -- The well respected Which? magazine has announced in its June edition that following rigorous tests and analysis, Crown Solo One Coat paint is the Best Buy gloss paint on the market.
Which? magazine is a totally unbiased and highly regarded publication whose slogan is "Independent advice you can trust". Its emphasis is on the interests and legal rights of the consumer. Following its thorough testing of the top available 11 paint brands it deemed Crown Solo One Coat in Brilliant White, renowned for its virtual no paint smell, to be the Best Buy of gloss paints.
Testing focussed on 4 areas: yellowing, appearance, application and durability. Methods included painting panels with the various products and artificially aging them to see how they fared after weights were dropped on them from a height. They were also tested for their resistance to stains. Crown Paint Solo One Coat in Brilliant White, scored an outstanding 66% making it the leading brand of gloss paint.
All Crown Paints contain their new and impressive Breatheasy formula which drastically reduces paint smells, making all of Crown Paints range 99% odourless. Paint with virtually no paint smell makes for a healthier working environment and allows households to get back to normal quickly. After extensive research Crown Paints have also incorporated in their products low Voc levels. This further reduces the smell of paint allowing for a more environmentally friendly paint.
Not surprisingly other Crown Paint products scored highly in the Which? Test Lab Report. With a score of 63% Crown Liquid gloss paint came third followed in ninth by Crown Non Drip Gloss scoring 57%. They all contain the Crown Breatheasy formula allowing for virtually no paint smell. Crown Paints as a company is highly committed to reducing emissions and waste on the environment.
###