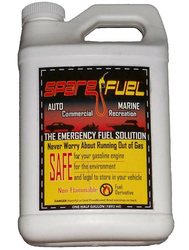 I only wish there were more guys out there like you. I'm truly amazed that someone hasn't come up with such a great idea before. - Scott Kilmer, CBS
Tuckerton, NJ (PRWEB) July 2, 2010
Spare Fuel owned by RW Solutions LLC, is an innovative but simple product that has just relaunched a brand new website and blog indicating their desire to share their life saving product with the world.
The website is full of blog articles and video explaining the uses and benefits of Spare Fuel. Rhino Web Consulting has engineered a new design with full interactive blog articles and a free report explaining the product in detail.
Rhino Web Consulting has also put them on the map with social media tools such as Facebook, Twitter, and Youtube with much more exposure on the way.
Spare Fuel essentially is a completely safe emergency fuel that does not catch on fire even under extreme conditions. This makes it the only safe fuel to store either in your vehicles or your house.
This product provides the best answer to the second largest cause of roadside breakdowns while eliminating the unsafe feelings that many individuals experience when they run out of fuel in their gasoline operated vehicles.
It's fascinating to me that no one has thought of such a simple idea before! Richard L. Bechtold wrote the Spare Fuel team saying, "I only wish there were more guys out there like you. I'm truly amazed that someone hasn't come up with such a great idea before."
Running out of fuel is never fun and sometimes can be dangerous or very costly. This solution is a cheap way to stay safe on the roads. It also puts your mind at ease.
Samuel M. Friedman mentions his experience using Spare Fuel. "Your product saved me and my career. I am employed as a sales rep for a Fortune 100 company and I ran out of gas on the way to make the presentation for a $40,000 sale. Thankfully, I remembered I had Spare Fuel and quickly poured it in my car and we were on our way!"
Next time you run out of gas, be prepared. Have a container of Spare Fuel in your car. As the CEO Rick Jones says, "If you have a spare tire, why wouldn't you have Spare Fuel?"
Sparefuel.net is expected to launch officially on July 1st, 2010 and Spare Fuel will be sold to start, just in the lower 48 states here in the US.
For more information, visit Sparefuel.net and for special inquiries, send an email to them through our contact us page.
###