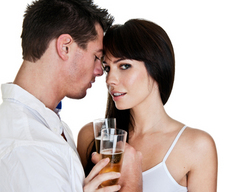 New York, NY (Vocus) July 1, 2010
Created for socially confident, quality, city-dwelling singles, OneStop Singles offers niche events designed around people's dating "deal breakers" – think: height requirements, political views, hair color, professions, hobbies and more. Unlike dating sites restricted to traditional criteria, like age range, income and personality IQ, OneStop Singles offers a range of services enabling singles to connect with others who have similar interests, backgrounds, quirks-even fetishes. The dating site produces singles parties, speed dating, wine tastings, networking events, free on-line dating and much more, for singles of all orientations across Manhattan and the five boroughs.
Co-founders, Amber Soletti and Carmine Di Re have been living the single life in NYC for nearly a decade. After experiencing first hand a major gap in services for busy singles, they decided to establish OneStop Singles. Having both spent their careers as executives in the marketing world (he in tech, she in cosmetics), they have now put their business and singles savvy to work by creating a way for singles to find exactly what they're looking for…on their terms!
While chemistry can be unpredictable; it's usually instant. OneStop Singles offers two services: Both OnSpeedDating.Com and SingleAndTheCity.Com provide singles with the immediate gratification of knowing whether it's there or it's not - right away without wasting valuable time. Singles can enjoy six to eight events per month between the two services. Events are offered throughout the five boroughs and are slated to roll-out to other cities in 2011.
OnSpeedDating.com (OSD) is an entirely new breed of speed dating. Delivering quality and quantity, the service offers NYC singles niche events themed around dating deal breakers as well as quirks and fetishes like "Hot for Teacher", "Date a Democrat", "Gentlemen Prefer Blondes", "Inked" for tattooed singles, "Non-Practicing Jew" night, "Have Passport, Will Travel", "Mr. Right Now" and "Size Matters" for guys and gals with a hankering for height and "Wing Women" for women seeking a partner in crime when they hit the dating scene. With the promise of at least 15-25 'dates' per event, singles are sure to have their pick of matches. Admission fees range from $30 to $40 per event.
Singleandthecity.com (SATC) offers creatively themed parties where potential 'dates' are recruited and paired based on common interests to maximize success. Parties range from intimate soirees, with 50-75 singles, to all out bashes with 300+ guests at some of the city's hottest venues. Recent events have included "Rescue Me," a NYC Firefighter's party featuring the city's hottest single firemen and EMT workers, a superficial, super fun mixer called "HOT or NOT" where singles have to submit a photo and be approved to attend. Also on the dating docket are "Cougar/Boy Toy" Hunts and "Lingerie/Slumber Wear Soirees." Admission ranges from $20 to $50 per event.
Unlike many on-line dating sites that offer members six months free if they can't make a love connection, Kissburg.com is 100% free and intended for those seeking serious relationships with other discerning singles. In addition to a wide-array of on-line dating tools designed to narrow searches by every possible trait imaginable, Kissburg.com offers singles the ability to search for a wingman or a wingwoman to navigate the singles scene with as well as a last minute date forum. The site also includes a dynamic section called "kiss-and-tell" where daters can share their experiences with the rest of the Kissburg.com community - the good, the bad and the ugly - so members can learn from and/or be entertained by each other's experiences. Members of OSD are automatically enrolled in Kissburg.com - granting them even more access to eligible singles they might not find at dating events.
###