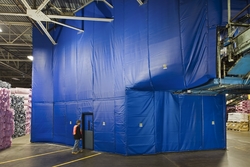 Milwaukee, WI (PRWEB) July 7, 2010
ZONEWORKS, a leading manufacturer of flexible fabric wall systems, announced the availability of three-dimensional environmental containment enclosures – custom designed, modular structures specifically engineered to cost-effectively address challenging environmental conditions virtually anywhere within an industrial plant or warehouse. The ZONEWORKS® enclosures allow users to control temperature, heat, humidity, sound, odor, dust, fumes and other elements to protect employees, products, and process integrity. The reconfigurable enclosures can also be constructed for temporary product storage in internal or external, conditioned or ambient environments.
Each ZONEWORKS enclosure is designed and built to match specific application requirements. The enclosures, which can be shaped to fit an entire open area or an individual machine, are constructed of modular vinyl panels securely connected with Velcro®. The application dictates the number of sides to an enclosure and the exact materials used, including insulating materials if required. Custom engineering ensures a proper fit around corners and obstructions.
Easy to install and maintain, the enclosures can be easily and quickly reconfigured as needs change. ZONEWORKS industry specialists provide on-site design consultation and complete drawings, as well as turnkey project support and installation coordination.
About ZONEWORKS
ZONEWORKS is an industry leader in custom-designed fabric wall systems and other environmental zoning products for all types of space separation and environmental containment needs in industrial facilities. All ZONEWORKS products are designed and manufactured in the United States and meet NFPA-701 flame resistance standards. For more information, please call 1-800-553-4834, or visit http://www.zoneworks.com.
###