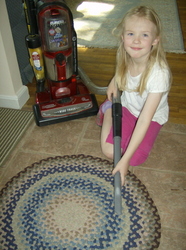 The advice we've heard from America's Cleanest Kids is refreshing
Bloomington, IL (Vocus) July 1, 2010
Eureka® now has some fresh cleaning advice from some of America's cleanest kids. Eureka, maker of the Clean Living™ vacuum cleaner, recently put out a call to America's cleanest kids to tell the company why they love to clean and their best suggestions to adults on how to clean and vacuum for a chance to win a new vacuum and Toys 'R Us gift certificate. The resulting advice offers a new perspective on cleaning which could benefit even the cleanest adults.
For the past six weeks, consumers logged on to http://www.eureka.com/cleankids to submit their child's testimonial, cleaning tip and a photo of their child cleaning for a chance to be featured on the site.
"The advice we've heard from America's Cleanest Kids is refreshing," said Jackie Cooper, director of marketing and communications for Eureka. "Through this contest we are reminded that a clean home has a positive effect for everyone, even the youngest members of the household."
Grace M., age 7 of Massachusetts, was named "Eureka's Cleanest Kid" thanks to her entry and creative photo. Grace says, "I love to clean floors so my favorite socks don't get brown and dirty on the bottoms. My tidy tip is to keep a throw rug by the front door to wipe your feet on when you come in the house. My job is to shake the little rugs outside and then vacuum them!"
As the grand prize winner, Grace won a $250 Toys 'R Us gift certificate and a Eureka Clean Living vacuum, which helps maintain a cleaner home with filtration that helps eliminate messes and odors in the home. The other four finalists received a $100 Toys 'R Us gift certificate and a Clean Living vacuum cleaner. All five winners will be featured on the Eureka website until July 30.
The four finalists offered the following tips and reasons why they love to clean:

"I love to clean because it helps people because I really love to do it because I care about people. Vacuums help me in case something like the floor gets dusty! Vacuums help get juice spills up but make sure to use a little cleaner too." – Holden W., age 4, "I love cleaning the house with Papa. If I break it, I can fix it with the vacuum!" – Harrison W., age 2 – both of Illinois
"I love to clean because my Mommy cleans and I want to be a helper. Helping Mommy vacuum is my favorite! Best cleaning tip: Singing the "Clean Up" song while vacuuming is fun!" – Elisabeth V., age 2 of Mississippi
"I love to clean because I want to get rid of dust so my allergies and asthma won't act up. I help my mom vacuum everyday and it helps a lot. I also love to clean to keep the house shiny. My best tip to keep the house tidy is to pick up my toys when I am done with them." – Tyler B., age 6 of Ohio
"I love to clean because if you keep things clean and organized it will be easy to find things. I also love to clean because if I get in the habit of keeping things clean I will never have to clean my room. My cleaning tip is fold your clothes and put them in your drawer organized by color or style every night." – Katrina L., age 9 of Colorado
The Clean Living vacuum, the newest Eureka bagless upright vacuum, provides a cleaner way to live with exclusive features that help filter dust, dirt, allergens and odor in the air. Eureka's On-Guard Antimicrobial brings antimicrobial power to the vacuum by inhibiting the growth of odor-causing bacteria in the brushroll bristles and on specific parts of the dust cup.* A Whirlwind Cyclonic System maintains suction power longer and separates larger debris from fine dust, resulting in less maintenance (when compared to noncylonic vacuums having dust cup filters). A HEPA filter captures 99.97 percent of dust, dirt and pet dander. Clean Living works on both bare floors and carpets and has a Eureka-exclusive stair and upholstery brush to tackle stairs, upholstery and stubborn pet hair.
"This youngest generation exceeded our expectations and definitely taught everyone a thing or two about cleaning," said Cooper.
Clean Living is available only at Walmart and on walmart.com. For additional information, consumers can visit http://www.eureka.com or call 800-282-2886. To learn more about the Clean Living Kids contest please visit http://www.eureka.com/cleankids.
*Areas treated with On-Guard include the filter basket and dirt tube within the dust cup assembly.
About Electrolux Home Care Products, Inc.
Electrolux Home Care Products, Inc. (EHCP) leverages consumer driven insight to manufacture and market innovative floor care products under its well-known Eureka and Electrolux consumer brands. The company also sells high-quality commercial products under its Sanitaire brand name and central vacuums made by its Electrolux Central Vacuum Systems division (formerly known as Beam Industries). EHCP is based in Bloomington, Ill., and is a part of The Electrolux Group. Visit http://www.electroluxusa.com, http://www.eureka.com, http://www.sanitairevac.com or http://www.beamvac.com for more information.
###