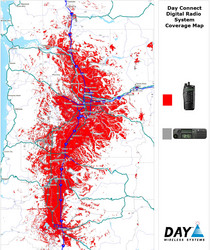 Cellular plans that include unlimited push-to-talk, GPS, and text messaging can easily be in the $60-$70 range. The Day Connect system gives the customer the option of having many of the same features for a third of the monthly price
Portland, OR (Vocus) July 1, 2010
Day Wireless Systems announces the availability of the Day Connect Digital Network beginning July 1st, 2010. The Day Connect Digital Network is a digital voice and data two-way radio network consisting of 6 IP connected mountaintop sites and spanning over 150 miles from Eugene, OR to Longview, WA. The digital network allows for crystal clear voice communication along with data capability including GPS, text messaging, and custom 3rd party applications. Day Wireless Systems owns and maintains the network while users have the option to purchase, lease, or rent the radio subscriber devices. The monthly fee for the network use includes unlimited push-to-talk, text, and GPS.
The network uses Motorola IP Site Connect software on the Mototrbo professional two-way radio platform. IP Site Connect allows the linking of Mototrbo repeaters to an IPv4 network in order to create a wide area system. Motorola Point-to-Point PTP300 Wireless Ethernet bridges connect the mountaintop repeater systems. End users are able to roam seamlessly from site to site without the need to adjust equipment.
Digital radio technology provides several distinct improvements over traditional analog systems. Call quality and range is improved due to noise cancellation and digital signaling. Privacy is enhanced with built in encryption. And data applications are easy to implement with every subscriber device having an IP address.
"Cellular plans that include unlimited push-to-talk, GPS, and text messaging can easily be in the $60-$70 range. The Day Connect system gives the customer the option of having many of the same features for a third of the monthly price," said Brent McGraw, Director of Sites and Systems at Day Wireless. "If you operate in a dispatch environment and your mobile workers stay within the Eugene to Longview coverage area, we have a very compelling product."
Businesses and government agencies who are able to make the initial investment in equipment, whether through budget or financing, will typically see a break-even point at 18 months and will see a significant return on investment every month thereafter.
Day Wireless Systems is composed of 26 locations throughout the West and has 175 in technical staff and over 300 employees. Day Wireless is a full service communications company with in-house tower services, installation and maintenance, system design, rental, and sales teams. Since 1969, Day Wireless has been providing professional wireless services for demanding commercial, government, and mission critical public safety systems, and is the largest Motorola two-way radio dealer in combined business in the USA.
For more information about the Day Connect Digital Network, please call the Day Wireless Tower Sites department at 800-554-0402.
# # #