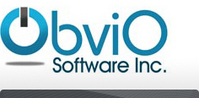 Katie Fitzsimmons "ObviO has the ability to consolidate all our our separate business process into one automated integrated package."
Ellicott City, MD (PRWEB) July 2, 2010
Obvio Software Inc. announces the release of the ObviO Enterprise Management System. ObviO EMS puts all of an organizations disconnected data in a consolidated integrated framework that is accessible to all levels of the business organization. The core packages include: General Ledger, Accounts Payable, Accounts Receivable, and Payroll. ObviO EMS allows all areas of the organization, accounting, project managers, human resources, and corporate officers, to work within one integrated system for easy access to company resources and real time business information that allows them to work efficiently and make informed business management decisions in a timely manner.
Katie Fitzsimmons, Conversion Project Manager, at Sigma Space states "The ability to consolidate all of our separate business processes into one automated integrated package" for the reason that ObviO EMS was chosen as the primary accounting package over competitors. "Our controller wanted a system that could meet our regulatory requirements as well as migrate our historical data from our existing legacy software that was no longer being supported by the manufacturer" states Katie. "ObviO met the requirements of our controller as well as provided the automated integrated tools to successfully handle our massively expanding human resources and MRP requirements as a high growth company."
In addition to the core modules, Project Management, Subcontractor Management, Human Resources, Human Resources, Employee Time & Expense entry (ObviO RealTime), Purchasing, Inventory, Order Entry, and Document Management are all available as add-on modules. The Modular architecture of the system allows organizations of any size to take advantage of the additional functionality of the software as their business grows. In addition to the traditional on-site server installations, ObviO Software Inc. provides secure, off-site hosting at near 100% up-time to ObviO EMS allowing small and medium size businesses to take advantage of the latest cloud computing technology.
Michael Brown, President of ObviO Software Inc., lists "giving small and medium size businesses an affordable competitive management advantage" as the reason why ObviO EMS was created and brings value to their clients. The software choices available to small and medium sized businesses before ObviO was introduced, especially those for project focused organizations, were very expensive and just not good software. "ObviO was introduced to provide a superior management alternative to the choices available to those organizations, and to provide them with an efficient, easy to use tool to manage the entire enterprise as opposed to having separate systems for accounting, project management, procurement, etc."
ObviO EMS is an all-in-one enterprise management system for all areas of an organization including accounting, project management, human resources, manufacturing, etc. for companies that wish to streamline operations within one software package while meeting regulatory compliance standards such as Federal Acquisition Regulations (FAR), Sarbanes-Oxley Regulations (SOX), and Defense Contract Audit Agency (DCAA) requirements. ObviO EMS is now even more affordable with lease options on our off-site hosting packages; eliminating the need for major up-front costs.
For additional information, contact:
Michael Brown
ObviO Software Inc.
Phone: 1-800-438-4227
Fax: 410-480-2203
http://www.obviosoftware.com
ObviO Software Inc. was established in 2008 between collaboration of GAAP Software Inc. and Puzlzle Enterprises, Inc. ObviO EMS is built on the GAAP Financial Accounting platform, with proven performance for over 30 years. ObviO Software's end to end solution is designed to make it easier for organizations to meet local, state, and federal contract requirements while following general accepted accounting principles.
###