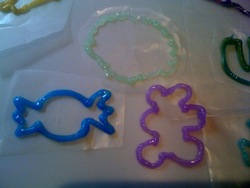 We wanted to make and trade bands that no one else had", says Greene
Pompano Beach, FL (PRWEB) July 1, 2010
Jaxon Kuipers and Jordan Greene, both age seven of Pompano Beach, Florida, experimented with different materials and techniques to create their own custom bandz. With their moms' help they created http://www.Custom-Bandz.com to show other kids how to make their own rubber bandz bracelets.
"We wanted to make and trade bands that no one else had", says Greene. What kind of unique bandz did they create? "I came up with a whole group of 'gross' bandz – like 'cockroach' and 'smelly sock,'" says Kuipers with a boyish grin.
Their method uses the same materials that the store-bought bandz are made of and a simple technique that even young children can master. All the materials can be bought inexpensively at local stores.
The website features a step-by-step e-book with over 75 patterns that sells for $6.99. Kids can choose their own colors, scents, or other add-ins and which shapes to make.
What do other kids think? Jaxon excitedly explains how a friend at school, who had over two hundred bandz, "was so surprised by my one-of-a-kind band that I made in the shape of a pencil that she offered to trade me this one bandz for any FIVE of her bandz that I wanted!"
Jaxon Kuipers' mom, Jude, likes how affordable it is to create hundreds of bandz. "It's a fun craft to do together and my son is so proud that he made them himself." Jordan Greene's mother, Katharine, is thrilled not to have to drive from store to store searching for the latest "rare" band. "Now all of our bandz are rare!" says Jordan Greene.
Custom Bandz, is a subsidiary of Kiddy-Up LLC which was established in 2010 in Fort Lauderdale, Florida. Created by two mothers who became friends at mommy-and-me when their children were barely a year old, Kiddy-Up creates fun and affordable activities for families.
Media Contact:
Katharine Greene, Director of Public Relations
954.695.1504
kgreene@custom-bandz.com
http://www.custom-bandz.com
###