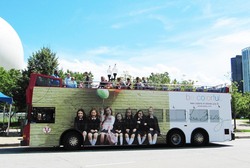 Follow Vera Bradley online: Facebook, Twitter, Flickr and YouTube
Fort Wayne, IN (PRWEB) July 1, 2010
Vera Bradley is embarking on a year-long BE COLORFUL celebration by encouraging others to make their street, their community, their city and/or their world more colorful.
The company encourages painting a school, planting a colorful garden, celebrating diversity and sharing it with the world by posting a video to YouTube with Vera Bradley Be Colorful as the tag.
To raise awareness of the new colors and styles arriving in Vera Bradley stores on July 8, the company will be performing RANDOM ACTS OF COLOR across the country beginning July 3.
Street teams will be gifting Vera Bradley products and special offers in Chicago, Fort Lauderdale, Miami, Charlotte, Atlanta, Philadelphia, New York City and Falmouth, Massachusetts over events surrounding Independence Day. Follow the Random Acts of Color activities in your city at http://www.becolorful.com!
About Vera Bradley: Friends Barbara Bradley Baekgaard and Patricia R. Miller founded Vera Bradley in 1982. Vera Bradley accessories, handbags, travel and paper & gift items have recently been spotted on: Desperate Housewives, Brothers and Sisters, Entourage, Modern Family and in more than 20 feature-length films, as well as in celebrity gift lounges surrounding the 2010 Tony Awards, 2009 Daytime Emmys and 2009 Primetime Emmys. Today, Vera Bradley is sold through 3300 specialty stores, as well as 31 Vera Bradley stores nationwide. Visit http://www.verabradley.com for a store near you or to learn more.
# # #