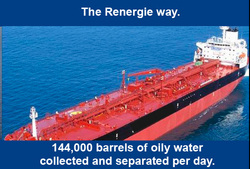 Addressing the oil spill and establishing a Gift With Purhcase Program to get larger ships involved in the clean up.
West Orange, NJ (PRWEB) July 2, 2010
Natural beauty products company Ecco Bella has announced a novel initiative to address the oil currently gushing into the Gulf of Mexico. Through July 22nd the company will be donating 30 percent of its internet-based revenue towards cleanup of the Gulf.
The company felt compelled to act upon learning that current cleanup efforts do not include all possible methods, including use of oil tankers. Ecco Bella founder, Sally Malanga, who is an environmentalist and Board member of Friends of Animals stated, "Through my research, I have learned of proposals to collect the Gulf oil spill from underneath and on the water's surface with readily available oil tankers, the method used to clean the far larger Saudi Aramco spill in 1993."
The Coast Guard has not approved large scale clean-up efforts, instead focusing on dispersants, burning, booms and surface skimming, with poor results. Although Coast Guard Admiral Allen stated on June 10 that the area near the Deepwater well is too crowded with vessels to allow the use of tankers, he did not address the collection of oil elsewhere in the Gulf.
Malanga notes that, both Allen and White House Spokesperson Robert Gibbs denied claims that foreign vessels and expertise have been blocked from use by the Jones Act, but news reports state otherwise.
Three senators, including Kay Bailey Hutchison of Texas, introduced legislation to waive the Jones Act. (See The Hill story)
Ecco Bella intends to support efforts by independent marine engineers, including the architects of the 1993 Saudi cleanup, who are planning their own large scale operations in the Gulf.
In parallel with the Gift with Purchase program, "We urge citizens to contact their elected officials and demand that the Coast Guard contract large ships for the Gulf oil spill clean up."
Malanga stated, "We'll tighten our belt to help get tankers into the Gulf. That's why I call it the world's largest gift with purchase, ever.
For more information please visit: http://blog.eccobella.com/ Sally Malanga founded Ecco Bella in 1992 to protect women from harmful chemicals and to protect animals from dangerous testing. Our primary mission is to provide luxurious and healthful products that are never tested on animals. Sally Malanga serves on the Board of Friends of Animals.
###