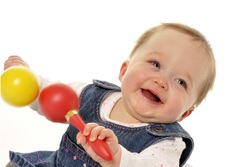 Franchise ownership is more affordable than people think. A Rhythm Time music franchise is fun, flexible and fits around your family commitments
(PRWeb UK) July 4, 2010
In the current economic climate, franchising is proving to be a popular route to people owning their own business, and queries for a music franchise with Rhythm Time have more than doubled in the last six months.
Franchising is attractive for many reasons – the main one being security. People like to buy a ready-made business with a good support network, a proven operating system and a well-established brand.
Founder and Managing Director of Rhythm Time, Kathy Doolan said: "Franchise ownership is more affordable than people think. A Rhythm Time music franchise is fun, flexible and fits around your family commitments and has given many people the chance to own their own business and change their career."
Rhythm Time has been running its music franchise since 2000. There are now well over 10,000 children attending classes throughout the UK and the franchises continue to grow.
"Our franchisees have come from many different backgrounds: childcare, banking, nursing, secretarial and teaching to name but a few. All share our core values of delivering high quality music classes to little people." adds Kathy.
According to the latest findings from the annual NatWest bfa franchise survey: "UK franchise businesses continue to grow and remain robust despite economic conditions, with the industry contributing £11.8 billion to the country's GDP last year, an increase of £400 million from last year."
Music classes for babies start as young as six weeks old and are designed to provide all round stimulation to a baby's senses.
At around 15 months the babies progress onto the music classes for toddlers which recognise that the child is ready for new challenges. Children are encourage to listen, explore percussion instruments, with lots of singing and dancing too.
Music classes for pre-school begin at 3 years and are an ideal preparation for going to school and playing an instrument later. The classes are based on the Early Years Foundation and are designed to encourage independence.
Mary Heard, owner of Rhythm Time's latest music franchise in Wales said: "I first decided to begin my own Rhythm Time journey after I took my baby boy to a session. I thought it was the most stimulating baby class I had ever seen and knew right there and then that this was my new career. I haven't looked back and will enjoy spending more time with my young son."
If you are interested in finding out more about a Rhythm Time music franchise and would like more information, please contact Kathy Doolan on 0121 711 4224.
Words: 431
Information For Editors
Rhythm Time was started in Solihull in 1995 by Kathy Doolan who is a firm believer in the power and importance of music for babies, toddlers and pre-school children. Kathy is a graduate of the Royal Scottish Academy of Music and set up Rhythm Time after having her own children.
Rhythm Time now has franchises all over the UK, operating in 181 areas with approximately 10,000 children attending classes weekly.
Rhythm Time offers three age-appropriate classes for babies (birth to 15 months), toddlers (15 months to three years) and pre-school (three to school age). Children enjoy a wonderful introduction to music.
Kathy has a firm belief that every child is musical and that every child should be able to attend high quality music classes.
###