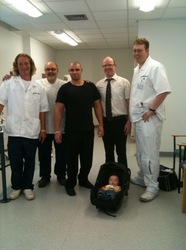 (PRWeb UK) July 3, 2010
Leeds Teaching Hospitals Trust and RSLSteeper team up to help Paralympian walk his sister down the aisle
Anthony Booth, a Paralympian who had his artificial legs stolen, has been able to walk his sister down the aisle thanks to Leeds Teaching Hospitals Trust and Leeds based prosthetics specialists RSLSteeper.
Anthony, who lost his legs when he was nine, had been practising for four months to walk without sticks to give away his sister Angela at her wedding on Saturday 26th June. On 12th June, Anthony's wheelchair and prosthetic legs were stolen, along with his car, and the day before the wedding, he made a national television appeal for the return of his legs ahead of the big day.
Anthony had already been in contact with his local prosthetics provider to try and get some replacement limbs after the robbery. He was told that whilst they could do the preliminary casting for the new legs, they wouldn't have been ready in time for the wedding.
Nancy Rhodes (Rehabilitation services manager) who manages the Seacroft Rehabilitation Centre saw this appeal, and requested RSLSteeper Branch Manager Steven Carter, to ring GMTV and offer help. Steve then contacted Anthony, and invited him down to the Leeds Teaching hospital site at Seacroft Hospital where RSLSteeper provided the clinical input.
Anthony arrived at the centre at 3pm, and at 4pm RSLSteeper used its leading edge Biosculptor CADCAM scanner to collect digital data from the patients limbs. By 4.30pm, this data was being passed through to the BioMill for manufacture, with each limb taking just 25 minutes to be carved. By 5.45pm, the fitting process began, and by 6.30, Anthony was taking his first steps on the new limbs. The whole process was finished by 8pm.
Anthony was overwhelmed and could not believe the difference in the service provided and how this was not going to cost him anything, as the limb build was processed under the NHS:
"I am so grateful to the whole team, they went above their call of duty. I had given up hope before I got the phone call on Friday morning. I had assumed I would have to use a wheelchair I have borrowed instead of walking my sister down the aisle on her special day."
Steve Carter, Paul Leishman, Roy Wood and Nigel Blower worked so hard to make the legs for me. They stayed for an extra five hours on Friday night to make sure I was fitted with a new pair of legs."
RSLSteeper Branch Manager Steven Carter said:
"What a great effort by the team, and what a great gentleman to do it for, this is what the job is all about; making dreams happen.
"We are probably the only company in the UK who were able to provide a replacement pair of limb for Anthony in such a short time frame. This would not be possible with conventional manufacturing techniques, but thanks to the leading edge CADCAM system that RSLSteeper has invested in and a great effort from everyone involved, we made it happen."
Anthony is a former wheelchair ice hockey athlete, who competed in the 1998 Winter Paralympics in Japan and is hoping to take part in the wheelchair races at the London 2012 Games.
RSLSteeper is one of the UK's leading providers of prosthetic, orthotic and assistive technology care. Working independently, in partnership with the NHS and other care agencies, the company provides both clinical services and products.
For further information on RSLSteeper, please visit http://www.rslsteeper.com
###