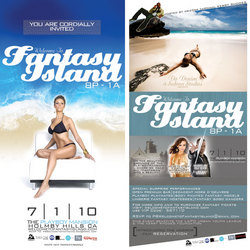 Los Angeles, CA (PRWEB) July 1, 2010
Sedona Studios, Visual Kreations & Do Denim invades the infamous Playboy Mansion as they present one of the sexiest events of the year where all dreams come true, "Welcome to Fantasy Island at the Playboy Mansion," Hosted by AZ Cardinals Kerry Rhodes & Dancing with the Stars Karina Smirnoff, Thursday, July 1, 2010 in Holmby Hills, CA. This ultimate event destination is an experience of a lifetime, "Where FANTASIES become a REALITY!"
The night will bring many surprises. Enjoy the most fabulous production and entertainment you have ever witnessed which includes Playboy Playmates, Body Painted FANTASY Models, Lingerie FANTASY Hostesses, FANTASY Go Go Dancers, Hundreds of Sexy Models, Open Premium Bar, Hors d'oeuvres, Gourmet Standing Food Buffet, Desserts, Special Surprise Performances, Global Guest List, Shuttle to Playboy Mansion and music by the great DJ Eye. Fantasy ticket holders will be able to mix, mingle and have photo opportunities with the Playboy Playmates, Celebrities, Models and others all while having VIP access to the infamous grotto, game room and mansion grounds.
The evening will feature special performances by No Red Tape, Karina Smirnoff and others. Do Denim will showcase its new line in the "FANTASY FASHION SHOW." Guests will take pleasure in a Silent Auction provided by Gallery of Dreams which will give FANTASY ticket holders an option to purchase several items such as celebrity and sports memorabilia, jewelry and more. Sedona Studios will introduce the horror film "Reservation," and guests will get the first look at the trailer. Some of the most beautiful women in the world will "invade" the Playboy Mansion for Fantasy Island. This star studded, sexy event will take place all in the name of charity…A party for a great cause. The event will benefit the LA Urban League & the Kerry RHODES Foundation. Both charities have teamed together to raise money for today's underprivileged youth and help brighten their future.
For more information on the Welcome to Fantasy Island at the Playboy Mansion event please visit http://www.WelcometoFantasyIsland.com to purchase tickets and more. There are a limited amount of exclusive FANTASY Tickets available.
Event Sponsors Include: Do Denim, Platinum Image Ent Group, Reservations the Movie, Sedona Studios, Team One Media Group & Visual Kreations.
Confirmed Celebrities Include: Allen Payne (Actor – House of Payne), Alton Glass (Film Director) , Amir Johnson (NBA – Toronto Raptors), Antwan Collins (Producer), Ansari (Comedian - Park & Recreation), Bai Ling (Actress), Bernard Berrian (NFL – Minnesota Vikings), Bobby Brown (NBA – Los Angeles Clippers), Bobby Spillman (Actor), Brian White (Actor - Stomp the Yard), Bryon Russell (NBA), Camille McDonald (Model – ANTM), Carl Payne (Actor), Cashmere (VH1's For the Love of Ray J), Charmane Star (Adult Film Star), Chris Young (NFL), Claudia Jordan (Actress – Deal Or No Deal), Clifton Powell (Actor), Costas Mandylord (Actor - Saw), Crispin Glover (Actor – Alice In Wonderland), Curtis Nelson (Actor – General Hospital), Dante Hughes (NFL – San Diego Chargers), Dave Pearce (British DJ), David Alan Grier (Actor - Dance Flick), David Anderson (NFL – Houston Texans), David Faustino (Actor – Married With Children), Dennis Washington (Philanthropist), Desean Jackson (NFL – Philadelphia Eagles), Donald Strickland (NFL – San Diego Chargers), Donnivin Jordan (Comedian), Dorell Wright (NBA – Miami Heat), Duane Martin (Actor – All Of Us), Earl Watson (NBA – Indiana Pacers), Ephraim Salaam (NFL – Houston Texans), Eric Roberts (Actor - Heroes), Eriq La Salle (Actor), F Gary Gray (Producer), Gabrielle Union (Actress), Gary Baxter (NFL - Cleveland Browns), Genevieve Goings (Singer), Hassan Johnson (Actor), Isaiah Mustafa (Old Spice Commercial), Jackie Long (Actor), Jaime Foxx (Actor/Singer), Jason Bland (Celebrity Stylist), Juan Vaughn (Producer), Jevon Kearse (NFL – Free Agent), Joshua Jackson (Actor – Dawson Creek), JT Jackson (Actor - CSI), Kapri Styles (Adult Film Star), Kareem Rush (NBA – LA Clippers), Keith Bulluck (NFL), Keith Robinson (Actor - Dear John/Dream Girls), Ken Hamlin (NFL - Baltimore Ravens), Kenny Lattimore (Singer), Kenny Lofton (MLB), Kenny Wormland (Actor - Turn It Up), Kevin Connelly (Actor - Entourage), Kevin Dillon (Actor – Entourage), Kevin Garnett (NBA - Boston Celtics), Kevin Hart (Actor - Death at a Funeral), Kirk Morrison (NFL - Jacksonville Jaguars), Kita Williams (VH1's The TO Show), LaMonica Garrett (Actress – Hawthorne), Lance Gross (Actor - My Family Wedding), Lauren London (Actress), Laz Alonso (Actor - Avatar/Fast & Furious 4), LenDale White (NFL – Free Agent), Lesean McCoy (NFL - Philadelphia Eagles), Leyla Milani (Model - Deal or No Deal), Lisa Raye McCoy (VH1's The Real McCoy), Lou Montesano (Singer), Magic Johnson (Entrepeneur), Mara Hall (Actress – Dance Your Ass Off), Mark Clebanoff (Writer), Matt Hoyle (Actor), Melissa Deblieck (VH1's "A Basement Affair" ), Michael Raven (Celebrity Jeweler), Mick Rossi (Actor), Mitch Richmond (NBA), Monique Jackson (VH1's The TO Show), Natasha Blasick (Actress - Days Of Our Lives), Nate McGarity (Actor - Transformers), Nathan Marshall (Producer), Naturi Naughton (Actress - Fame/Notorious), Nikki Cadwell (UCLA Women's Coach), Nikki Gray (Actress), Owen Daniels (NFL – Houston Texans), Peter Dobson (Actor/Director), Rashad McCants (NBA), Rasual Butler (NBA – Los Angeles Clippers), Ray Ethridge (NFL), Regan Gomez (Actress - The Cleveland Show), Reggie Bush (NFL - NO Saints), Reginald Hayes (Actor - Girlfriends), Rochelle Aytes (Actress - ABC's The Forgotten/Madea's Family Reunion), Ron Jeremy (Adult Film Star), Ron Pearlan (Actor – Sons of Anarchy), Saleisha Stowers (Model - ANTM), Seth Scott (France - ProA), Shane Eli (Hip Hop Artist), Shawn Merriman (NFL – San Diego Chargers), Shemar Moore (Actor - Criminal Minds), Shia LaBeouff (Actor - Transformers), Silkk the Shocker (Rapper), Sofia Milos (Actress - CSI Miami), Stacie Terry (UCLA Women's Coach), Sundy Carter (Actress – Code Blue), Tangi Miller (Actress), Tasha Butts (UCLA Women's Coach), Terrell Owens (VH1's The TO Show), Teyana Taylor (Singer - Stomp the Yard 2), Tiffani Abney (VH1 Ultimate Catch "Ocho Cinco Show"), Tommy Davidson (Actor), Trend Rovheir (Model), Troy Winbush (Actor – Bones), Tyne Stecklein (Actress – This Is It), Tyrese Gibson (Actor), Vince Young (NFL – Tennessee Titans), Willie McGinest (NFL) & many others.
About Sedona Studios PBMV
Sedona Studios PBMV is a full-service film production and music recording company that focuses on creating quality original films, television programs and music for distribution through both the traditional media and burgeoning Internet outlets. Through Madeche Vision, Sedona Studios has created a unique Internet portal outfitted with state of the art hyper video tracking technology that integrates product branding with visual programming. Sedona prides itself in using its incredibly talented team and state-of-the-art equipment to create all products independently from conception to distribution.
About The Kerry RHODES Foundation
The Kerry RHODES Foundation is a non-profit organization founded in 2006 by NFL by former NY Jets and current Arizona Cardinals star Safety Kerry Rhodes. Kerry recognized the importance of inspiring young minds to visualize goals, and the need to provide resources that enable these same young minds to pursue and attain these goals. Mr. Rhodes understands these goals are best achieved through well equipped educational facilities which provide their students with choices, opportunities and inspiration. For this reason, one of the primary missions of the Foundation is to provide high schools located in financially depressed areas with resources, equipment, programs and activities that will assist with the academic, athletic, and social development of their students.
Additionally, Mr. Rhodes understands the importance of acknowledging the bold steps of those remarkable young men and women who dare to take their dreams even further. For this reason, the other primary mission of the Foundation is to provide financial assistance to these high schools to enable them to furnish scholarships to certain talented young men and women for the continuation of their academic careers beyond high school.
About the Los Angeles Urban League
The Los Angeles Urban League has been at the forefront of identifying and addressing issues that are of concern to African Americans and other minorities in the City of Los Angeles for more than 86 years. The mission of the Los Angeles Urban League is to enable African Americans and other minorities to secure economic self-reliance, parity, power and civil rights through advocacy activities and the provision of programs and services in our uniquely diversified city and region. One of the League's strongest assets is the Board of Directors which includes representatives of top American companies and individuals who are committed stakeholders and very engaged in the programs and activities of the League. The Los Angeles Urban League was recognized by the National Urban League with its highest national honor as the 2008 Affiliate of the Year. President & CEO Blair H. Taylor was honored in 2009 as a member of The NonProfit Times' Top 50 Nonprofit Leaders of Power and Influence.
About Team One Media Group (TOMG)
Team One Media Group is a full-service film production and entertainment management company, with focus on producing ground breaking films, television programs, as well as providing Marketing and Management services for Film, Music and Sports clientele.
About Platinum Image Entertainment Group (PIEG)
Platinum Image Entertainment Group is a unique personalized lifestyle retreat that caters to a wide spectrum of celebrity clientele within the Fashion, Film, Music & Sports entertainment industries. Platinum Image specializes in Celebrity Procurement, Red Carpet Event Production & Publicity, Lifestyle & Image Branding, Media Relations, Personal Entertainment PR and much more.
About Vision Kreations
Vision Kreations is a multifaceted entertainment company that specializes in client management, brand imaging and event planning.
For Media Credential Approval Please Contact:
Tamiko Thomas | Platinum Image Ent Group | 571-215-3157 | PlatinumImageEntGroup(at)gmail(dot)com
###