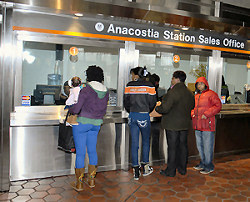 Los Angeles, CA (PRWEB) July 2, 2010
Given the task to create a large ticket booth for the Anacostia Metrorail Station in Washington D.C.'s 8th Ward, B.I.G. Enterprises (http://www.bigbooth.com) produced a bullet-resistant stainless steel booth to accommodate about 20,000 daily ticket buyers. Ed Riley, Head of WMATA's Architectural Department said, "Our Anacostia sales office is more important for appearance's sake. It helps passengers feel safe and it is a place that passengers want to visit. A well-designed and well-constructed sales office plays an important marketing role for us because as you know, Washington D.C. hosts events all the time."
WMATA officials knew the security requirements for the sales office, but equally as important, they knew this structure could act as an instrument to promote the image of the city's mass transit system. In 2005, the Anacostia Metrorail Station redevelopment first began as a way to revitalize Washington D.C.'s 8th Ward by creating a multi-modal transit facility and mixed-use hub for shops, apartments and government offices. The Mayor's office headed the initiative as a way to revitalize the area, increase job opportunities and stimulate growth.
The unique design had to accommodate several specific factors, designing around a vaulted ceiling, and creating a structure that is easily maintained, durable, washable, secure, does not require paint and has 'plug and play' capabilities. There also had to be plenty of room for employees to work, the structure had to employ ballistic technology due to safety regulations for money handling, and it needed to safeguard the employees.
WMATA struggled with ideas for the sales office for many years due to the unusual conditions in the Metro Station. WMATA's Riley commented, "The environment inside the stations is very harsh—brake dust comes off the trains and it gets all over the place. People and equipment knock things around, so durability is a necessity. Plus, it's not like the sales office is inside a shopping mall where you can control HVAC. We rely upon the piston action of the trains to move air through the stations and the temperature is pretty stable because we're deep underground. Even so, the environment is impacted by the winter and summer's extreme temperatures flowing inward from exit doors," added Riley.
"The Anacostia Station has served a valued purpose in helping to revitalize the 8th Ward and create new opportunities for its citizens," said Mayor Adrian M. Feny.
More Information about B.I.G. Enterprises:
For over 45 years, B.I.G. Enterprises, Inc. of South El Monte, CA has engineered and manufactured high quality prefabricated booths for the security and parking industry. Their large selection of preassembled buildings includes guardhouses, cashier booths, portable buildings, bus shelters and a variety of custom made kiosks.
Utilizing a proprietary "Critical Span" manufacturing technique that increases convenience and strength in prefabricated structures, the B.I.G. team has booths protecting our nation's capital, nuclear power plants, international airports, colleges, universities and corporate offices.
###