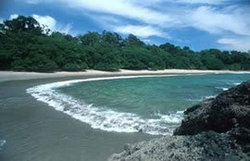 Manuel Antonio beach vacation rentals are proving a popular choice for families
Manuel Antonio, Costa Rica (PRWEB) July 6, 2010
The 2010 Trip Advisor Travelers choice awards list Manuel Antonio, Costa Rica as a top beach and sun destination. A combination of white sandy beaches, an abundance of flora and fauna and exclusive beach property rentals has ensured that Manuel Antonio tops many lists as a dream vacation.
Based on millions of genuine and unbiased traveler's reviews, Manuel Antonio, Costa Rica has been voted one of the top three destinations for a beach and sun vacation. In its second year, the 2010 Trip Advisor Travelers Choice Awards listed Manuel Antonio in third place thanks to its beautiful exotic landscape of lush greenery, white sandy beaches and world class accommodation. Winners were determined by a combination of travelers' destination comments, favorite places, and overall destination popularity on TripAdvisor.
Current statistics show that Trip Advisor attracts over 46 million unique visitors a month, which demonstrates it continues to be a popular site for many travelers in search of consumer-generated reviews.
The main benefit of the site is relevancy; Trip Advisor is continually updated by users, allowing travelers to get fresh reviews for thousands of destinations around the world. "Millions of travelers rely on TripAdvisor for travel inspiration and have helped identify the world's most outstanding destinations," said Christine Petersen, chief marketing officer for TripAdvisor. "From stunningly beautiful locales to hot spots with amazing attractions, the 2010 Travelers' Choice Destinations Award winners are truly incredible places that travelers love."
Despite the economic downturn worldwide, Manuel Antonio has experienced a steady increase in tourism figures. Manuel Antonio National Park has reported an increase on 2009 statistics, which show 300,000 visitors.
Trip Advisor statistics illustrate how many families are now opting for beach vacation rentals. Voting from the number one travel guide, Trip Advisor shows that the availability of luxury villas has ensured Manuel Antonio is at the top of wish lists when it comes to dream vacations.
Although hotels continue to be a popular choice, beach vacation rentals are being snapped up for the holiday season simply because they offer much more for much less. Families and groups recognize the benefits of opting for such properties in Manuel Antonio, with advantages including the ability to choose a spacious villa that is suited to their needs, as well as the freedom and privacy to relax without following schedules.
One of the most highly rated villa rental management companies in Costa Rica; Villas Costa Rica offers an elite portfolio of Costa Rica vacation rentals in Manuel Antonio. With the most sought after locations, such properties are surrounded by tropical rainforest and beautiful views of the smooth undulating foothills and the pacific sea. Additionally, Villas Costa Rica offers a concierge and chauffer service, skilled personal chefs and spa treatments.
Operating for over ten years, it comes as no surprise to Villas Costa Rica that Manuel Antonio has received such an important recognition. "Manuel Antonio is truly a unique paradise and our villas and excellent customer service make this the perfect holiday destination," a spokesperson for Villas Costa Rica explained.
"We aim to please. Our high level service has ensured that our clients leave feeling relaxed. We already know that we will see them again next year," the spokesperson added. Villas Costa Rica also organizes tours to the beautiful sites of Manuel Antonio. With kayaking, dolphin watching, canopy tours and sunset sailing, it's difficult to imagine a more fitting award for one of the best beach holiday destinations in the world.
###