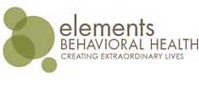 I have never seen a greater opportunity for a group of individuals to combine talents, experience, and vision for the greater benefit of all seeking healing and recovery
Los Angeles, CA (Vocus) July 2, 2010
Elements Behavioral Health, provider of residential treatment services for addiction and co-occurring disorders, announced this week the acquisition of The Ranch in Nunnelly, Tennessee.
The Ranch is a multidisciplinary program that offers comprehensive treatment for alcohol and drug addiction, eating disorders, trauma, and codependency. Located on a working horse ranch in the beautiful rolling hills 45 minutes southwest of Nashville, The Ranch offers an ideal location for experiential-based therapeutic services.
"Elements Behavioral Health is pleased to include the Ranch in its family of programs. The Ranch expands the treatment services of Elements to include primary eating disorder and trauma treatment. Their unique therapeutic program, which includes equine-assisted therapy, challenge courses, Native American spirituality, and wilderness experiences, helps individuals achieve lasting improvement and personal change. The experiential nature of the program and compassionate caring of the Ranch staff bring to Elements a unique and powerful way to help those who thrive in a more natural environment," said Dr. David Sack, CEO and President of Elements Behavioral Health.
The Ranch also offers gender-specific programming for men and women.
"Having known and respected the Ranch's staff and programs for over 10 years, I am very excited to be working with and representing them. Their creative and spiritual approach at an affordable price will be a welcome addition to Promises and the Elements Behavioral Health family," said Keith Arnold, VP of Operations at Elements.
The founder of The Ranch, Lee McCormick, started The Ranch in 1998 because he wanted to create a healing environment with a holistic and spiritual approach to the treatment of addiction.
"I have never seen a greater opportunity for a group of individuals to combine talents, experience, and vision for the greater benefit of all seeking healing and recovery," said Lee McCormick. "The Ranch and Elements together embody the honesty, open mindedness, and willingness that is the foundation of recovering our integrity and freedom."
Cheryl Brown, Executive Director of The Ranch, who has worked in the addiction and behavioral health field for 30 years, said, "The Ranch resonates with my personal beliefs around the effective tools needed to impact the life challenges I often see presented in our clients. Elements subscribes to the same philosophy – embracing treatment that addresses the emotional, psychological, physical, and spiritual issues of each client."
Elements Behavioral Health aims to fill the gaps in mental health treatment between inpatient and outpatient psychiatric services; in co-occurring mental health and substance abuse disorders; and between traditional and alternative settings to help clients with behavioral health issues. The goal is for full recovery and well being with permanent life change and lifestyle improvement and not just symptom reduction. Our focus is not only on the patient, but on the health and support of the family system. To learn more about The Ranch visit http://www.recoveryranch.com or call 800-849-5969. To learn more about Elements, visit http://www.elementsbehavioralhealth.com.
###