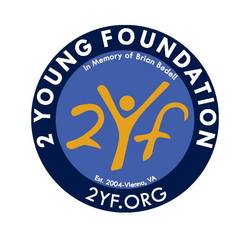 Fairfax, Virginia (Vocus) July 2, 2010
The 2 Young Foundation (2YF), a non-profit (501c3) charitable organization founded in Vienna, Virginia that has contributed major funding to the cause of finding a cure for brain cancer, has partnered with The Leigh Agency of Fairfax. The two have officially joined forces, recently launching a new Foundation website - a project that both parties are extremely proud to share with the public.
The Leigh Agency created the new 2YF site after much collaboration with the board members of the Foundation to produce an updated and vibrant look, while maximizing the site's reach beyond local, and going global.
The new site was designed in keeping with 2YF's primary mission, serving as a tool to generate public awareness about brain cancer, incorporating social networking sites to connect communities thus advancing 2YF's endeavors to save lives, raising money to fund research initiatives, and finding a cure for brain cancer. The website will serve as an additional resource for information about the disease, as well as provide ways to get involved with 2YF and their fundraising efforts and charity events. In time, it is both The Leigh Agency and 2YF's ambition to partner with other organizations and strengthen overall fundraising efforts.
The Leigh Agency was founded by Jodi Leigh in 2009, and is a full service agency offering a range of integrated marketing services for web, print, television, and radio media, with a focus on non-profit organizations, grass roots marketing, and event planning.
For information about The Leigh Agency, visit http://www.LeighEnergy.com, and to check out the newly launched site they created for the 2 Young Foundation, visit http://www.2YF.org.
About 2YF: The 2 Young Foundation was founded in 2004 by Brian Bedell and continues to grow each year in his honor. 2YF is a non-profit (501c3) charitable organization that is dedicated to caring for families and patients affected by brain cancer, connecting communities to generate public awareness, and committing funds to further research in curing this disease.
###