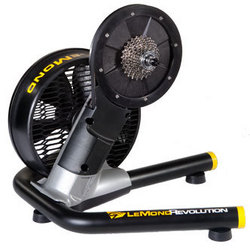 "Bike trainers have to be comfortable and must directly lead to better performance on the road in order to be effective"
Woodinville, WA (PRWEB) July 3, 2010
LeMond Fitness this season introduces the all-new Revolution bike trainer that delivers the industry's most real-to-life road feel and performance output to ensure avid cyclists and triathletes stay in peak physical condition regardless of the weather.
The Revolution is a resistance trainer that features High Inertia Technology (HIT) designed with a large, weighted flywheel that emulates the inertia of a rolling bicycle, spins freely when the pedals aren't engaged, and delivers progressive wind resistance similar to real-world conditions. The design creates a smooth, natural feel while pedaling with no lag when the rider slows down or changes gears, and comes closer to the feel of riding on the road than any other trainer.
The design is inspired by the original wind resistance trainer that bike legend Greg LeMond used to prepare for victories in multiple world cycling events, including the Tour de France. The realistic performance of the trainer vastly improved LeMond's riding strength and endurance that directly translated to racing on the road and reaching the podium.
"Bike trainers have to be comfortable and must directly lead to better performance on the road in order to be effective," said LeMond. "Alternative magnetic, fluid and mechanical trainers create resistance that feels like riding in sand or mud. The realistic feel of the Revolution makes all the difference in having a positive training experience. Once you get on it, nothing touches it."
The Revolution is quick to set up and use with an easy-on, easy-off design that accommodates both road and mountain bikes. Bikes can be attached simply by removing the rear wheel and aligning the rear drop-outs with the quick-release mounting levers on the trainer.
LeMond Fitness Revolution™ Features

High Inertia Technology (HIT) – large, weighted flywheel adds inertia and lets bike freewheel naturally with a wider range of resistance
Progressive Wind Resistance – resistance progresses with speed, creating a smooth pedal stroke with no lag
Easy-on, Easy-off Design – simply remove the back wheel and attach the rear dropouts to the spindle
Stable Frame – the frame won't flex and allows cyclists to ride out of the saddle
Great for Mountain Bike Training – simply remove the back wheel
Power Pilot Meter (Fall 2010) – wireless power meter displays watts, cadence, distance, speed, heart rate, and calories with USB download capability (sold separately)
The Revolution is exclusively available for sale beginning summer 2010 through LeMond Fitness.
About LeMond Fitness
LeMond Fitness was formed in 2002 by Greg LeMond with a mission to help individuals achieve their fitness goals and train more effectively. As the first American to win the Tour de France, Greg transformed the world of cycling. LeMond Fitness bikes reflect Greg's same passion for cycling products that break out of the mold. Tired of indoor training and exercise bikes that had nothing to do with cycling, Greg reinvented the product category – making LeMond Fitness the industry gold standard for high quality and exceptional performance in stationary cycles. Designed like great road bikes, all LeMond Fitness exercise and training bikes offer user-friendly adjustments and innovative cycling programs to make a workout and training program more effective.
###