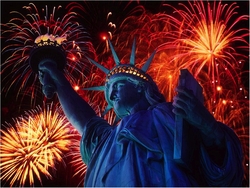 New York (PRWEB) July 2, 2010
Patriotism and summer celebration happily collide in New York this weekend to create an unforgettable Fourth of July. In fact, this Sunday, the entire nation will turn its eyes to Manhattan. Few images evoke a swell of American pride like Macy's Fourth of July Fireworks over New York City. The city is going to pop as 40,000 shells are launched from six barges on the Hudson River – lighting up the sky over the Statue of Liberty and the Manhattan skyline. It's free for all to behold from along the river, rooftops, and – for the lucky – a best friend's loft. And if that's not enough to get one scurrying to the river banks, the Mormon Tabernacle Choir will thunder on a live soundtrack. Top that? Fugetaboutit.
But that's not all. Earlier in the day (10 a.m. to 1 p.m.) Nathan's annual hot dog eating contest pits 20 competitive eaters against each other in the race to eat Coney Island favorites. Watching is free; the desire to order a hot dog will be greatest before the contest starts. City parks will be full of holiday-makers and picnickers. Sidewalks will be jammed, and sales of ice cream and gelato pops should skyrocket.
Fireworks barges will be docked on the Hudson River. View from along the river; entry points to the waterfront will be along 12th Avenue between 23rd and 59th streets. The show begins around 9:30 p.m. Or book a spot on Circle Line's fireworks cruise; it begins boarding at 5:30 p.m. for a 7-11 p.m. cruise ($79).
This year's theme is "American Harmony," featuring the history of American music; music will sync with fireworks. NBC will broadcast to far-flung patriots. Expect to hear different styles, musicians, and covers of American classics by a wide range of performers. The broadcast will also feature New York Pops and teen 'throb Justin Bieber.
Visitors in the city get a free American spectacle. All the rest of us can live vicariously with NBC replays after our own hometown Independence Day ends.
###