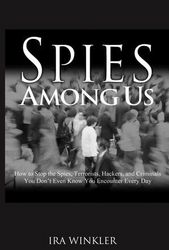 Hoboken, NJ (PRWEB) July 2, 2010
While the latest case of espionage cracked by United States government reportedly didn't yield many results for Russia, it should still serve as a reminder that though the cold war is over countries still continue to spy on one another and likely always will. The CIA trains and maintains spies throughout the world. China is suspected to have thousands of front companies operating in the US executing every form of hacking, cracking, physical security breaches, and other criminal activity. The latest sweep turned up 11 people suspected of working for a much larger network of Russian spies looking to infiltrate influential political circles in the US and discover what they thought of Russia and Barack Obama's intentions for last year's summit in Moscow.
One book, Spies Among Us: How to Stop the Spies, Terrorists, Hackers, and Criminals You Don't Even Know You Encounter Every Day (John Wiley & Sons, Inc.; $27.50; Available Now; 978-0-7645-8468-8), takes a realistic look at such threats and outlines a plan on how to counter them. Though the most recent case of international espionage has the makings of and has been treated like modern day slapstick in the news, it is still a very serious issue and one that is not going away anytime soon.
In Spies Among Us, author Ira Winkler first walks the reader through the basics of how cyber criminals and the lot of bad guys think and how they do what they do: identifying valuable information, assessing risk, determining value, identifying threats (both internal and external), and spotting vulnerabilities. This last task is often the most difficult -- no one wants to admit they're not doing all they can to guard their employer's secrets. The second part of the book presents case histories from the author's own experience as one of the world's top security consultants and keynote speakers. Winkler then wraps up the book with recommendations for how companies and individuals can secure themselves against the spies, criminals, and terrorists who regularly cross their path; addressing the vulnerabilities and threats described throughout the book.
To book an author appearance or interview, please contact Ashley Evens at aevens(at)wiley(dot)com or 201-748-6702.
Spies Among Us: How to Stop the Spies, Terrorists, Hackers, and Criminals You Don't Even Know You Encounter Every Day
John Wiley & Sons, Inc.; Cloth; $27.50; 346 Pages
Available Now; ISBN 978-0-7645-8468-8
About the Author
Ira Winkler (Severna Park, MD) is a Partner with CSC, a $14.8 billion technology systems giant with 90,000 employees in 80 countries, famous for employing ethical hackers and cyber security specialists. Previously, Ira was Chief Security Strategist for Hewlett-Packard. He began his career at the National Security Agency as an undercover intelligence analyst, moved on to other gov't agencies and the National Computer Security Agency and then on up to the big corporate leagues of SAIC, CSC, and H-P, in cyber security undercover roles, as well as senior management. The media has dubbed Ira, the modern-day James Bond of cyber security.
About Wiley Founded in 1807, John Wiley & Sons, Inc. has been a valued source of information and understanding for 200 years, helping people around the world meet their needs and fulfill their aspirations. Since 1901, Wiley and its acquired companies have published the works of more than 350 Nobel laureates in all categories: Literature, Economics, Physiology or Medicine, Physics, Chemistry and Peace. Our core businesses publish scientific, technical, medical and scholarly journals, encyclopedias, books, and online products and services; professional/trade books, subscription products, training materials, and online applications and websites; and educational materials for undergraduate and graduate students and lifelong learners. Wiley's global headquarters are located in Hoboken, New Jersey, with operations in the U.S., Europe, Asia, Canada, and Australia. The Company's Web site can be accessed at http://www.wiley.com. The Company is listed on the New York Stock Exchange under the symbols JWa and JWb.
# # #