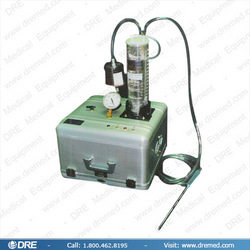 Louisville, KY (Vocus) July 2, 2010
DRE, Inc., a premier surgical and medical equipment supplier, recently introduced the DRE LA-540, an affordable aspirator and liposuction system that features two positive displacement pumps and includes a five-year manufacturer's warranty on parts and labor.
The DRE LA-540, available now from DRE, has ultra-quiet dual head displacement pumps that relieve back pressure. Each individual pump can pull against the patient so that a deep vacuum is quickly reached and maintained.
The quiet DRE LA-540 features 1" shock mounts that help eliminate vibration. Plus, the DRE LA-540 features a volume-reducing muffler and insulation system that makes it one of the quietest aspirators and liposuction systems on the market.
In addition to the DRE LA-540, DRE offers the DRE LI-60, a high powered tumescent infusion pump designed for virtually effortless infiltration. The DRE LI-60 is capable of infusion flow rates of zero to 850 mL/min and has an easy-load hub.
The DRE LI-60 comes with a sterilizable infusion needle, infusion tubing and a pneumatic foot switch. Its infusion handle features on/off control, and the sleek stainless steel head control provides durability and easy cleaning.
DRE is a complete medical equipment resource for cosmetic surgery centers. In addition to the DRE LA-540 and DRE LI-60, DRE distributes new and professionally refurbished anesthesia equipment, including the DRE Integra SP II, a fully-functional anesthesia machine that is great for surgery centers that require more than one anesthetic agent. The DRE Integra SP II also offers a low cost of ownership over a ten-year life cycle and is a cost-effective alternative to name-brand anesthesia machines.
DRE recently rolled out the DRE Anetic-P, a mobile surgery trolley that combines the maneuverability of a stretcher with features of a surgery table. The DRE Anetic-P mobile operating table provides four remotely-activated powered functions, including a traversing top for superior surgical access, and can support weights up to 550 pounds.
Plastic surgeons can rely on DRE for a variety of surgical lighting, including the DRE Maxx Luxx 3, a surgery lighting system with an extremely cool output. The DRE Maxx Luxx 3 provides increased efficiency over traditional halogen light sources, provides superb color temperatures and features a rated bulb life of more than 10,000 hours.
The DRE LA-540 liposuction system is available now from DRE. Physicians and surgeons can learn more about DRE's complete selection of new and professionally refurbished medical products by visiting http://www.dremed.com.
About DRE, Inc.
DRE is a premier medical and operating room equipment supplier. DRE provides a combination of new and professionally refurbished or used medical equipment to industry professionals around the globe. For the third consecutive year, Business First of Louisville has named DRE one of the 50 fastest growing businesses in the Greater Louisville area.
###