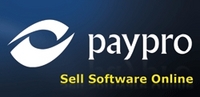 After being in the eCommerce industry for eight years, we understand that a successful software business requires not only skilled development, but a smart sales strategy as well
Toronto, Canada (Vocus) July 2, 2010
PayPro Global, international eCommerce solution provider, today announced that it will participate in and sponsor the premiere conference for Independent Software Vendors (ISVs) and MicroISVs – the Software Industry Conference (SIC). The three-day event takes place July 15-17 at the Hyatt Regency DFW in Dallas, Texas.
PayPro Global will host an exhibit booth and showcase its EasyCommerce platform, designed to help software vendors sell software online securely. Tailored to meet the preferences of software vendors worldwide, PayPro eCommerce solution features several recent enhancements focused specifically on optimizing the checkout process and thus increasing conversion rates and online revenue. Conference attendees can learn how PayPro clients have successfully used these tools for increasing sales.
"After being in the eCommerce industry for eight years, we understand that a successful software business requires not only skilled development, but a smart sales strategy as well," said Matthew Silverman, CEO of PayPro Global. "This conference will give software vendors a great chance to meet with PayPro experts and learn about the most effective techniques for growing their business online with minimal marketing costs."
PayPro devotes considerable attention to the ISV community, sponsoring and participating in all major software industry events.
The Software Industry Conference provides three days of educational seminars and presentations covering a wide variety of topics that are critical to the success of ISVs. It provides software developers and publishers with an opportunity to obtain useful contacts and establish strategic partnerships that will help them to sell more software online.
More information about the conference is available at http://www.sic.org/ .
About PayPro Global
Founded in 2006, PayPro Global, Inc. develops and hosts an eCommerce solution that allows anyone to easily sell software online. PayPro Global supports more than one hundred currencies, all major credit cards, and a wide variety of payment options. The company also offers software developers state-of-the-art licensing, activation, and anti-piracy protection for their applications. PayPro Global is headquartered in Toronto, Canada, with development centers in Ramat Gan, Israel and Lugansk, Ukraine, and regional offices in Milwaukee, USA, and London, UK.
Web site: http://www.payproglobal.com
Contact
Matthew Silverman, CEO
PayPro Global, Inc.
Suite 1117
250 The East Mall
Toronto, Ontario
M9B 6L3
Canada
Phone: +1-646-873-6857 (Canada)
###