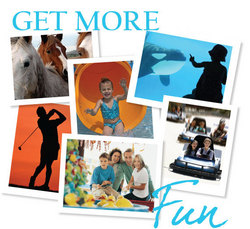 Destin, FL (Vocus) July 2, 2010
Amenity Services, Inc. (GetMoreVacations.com) continues to expand throughout the southeastern United States. ASI, the nation's leading provider of free-to-guest amenity programs, recently partnered with Baskins Creek Vacation Rentals in the Smoky Mountains of Gatlinburg and Pigeon Forge, Tennessee. Baskins Creek now offers the following amenities to their guests free every day of their stay:
Guests of Baskins Creek will enjoy daily a complimentary round of golf at Bent Creek Golf Village, white water rafting with USA Raft, horseback riding at Five Oaks Riding Stables, sky diving at Flyaway Indoor Skydiving, tubing on River Rat's Little River, go-cart passes to Star Tracks and Speed Zone, admission to the Country Tonite Music Show and the Smith Family Theater, a game of laser tag, one round of miniature golf or one go-cart trip at Lazer Port Fun Center and unlimited DVD rentals.
ASI is the nation's leading provider of free to guest amenity programs to vacation rental property management companies. These programs give guests a more "all-inclusive" vacation experience by providing the best activities an area has to offer in one convenient, easy-to-use program. ASI was founded in 1996 and is based in Destin, Florida. The company currently provides programs for over 10,000 vacation rental properties in Alabama, California, Florida, North Carolina, South Carolina, Tennessee, Vermont and West Virginia.
GetMoreVacations.com was launched by Amenity Services, Inc. (ASI) in 2008. ASI President Darrell Blanton says, "What makes GetMoreVacations.com different from other websites is the fact that every property on our site offers free to guest services such as golf, water and amusement parks, free snow skiing and rafting. People used to think the idea of free golf or white water rafting was far-fetched as a guest amenity. Today, our partnering properties couldn't imagine trying to rent their properties without the amenity program. The program has really taken off. We are thrilled to be a part of so many remarkable communities in 2010."
All visitors to GetMoreVacations.com can enter to win a free, amenity-filled vacation by clicking on the Win Big GMV icon. The next winner will be announced July 7th, 2010. An email will be sent to all contest entrants announcing the winner and the next free vacation.
For more information, go to http://www.GetMoreVacations.com. Media contact: Susie Cross, Amenity Services, Inc. for GetMoreVacations.com, (850) 337-4510
###