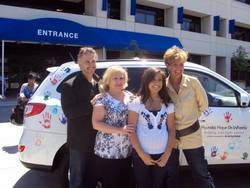 Dr. Monica Thakar's research will mean more children like Alyssa will survive their cancer, have less risk of relapse and complete their treatment in a much shorter time frame
Milwaukee, WI (PRWEB) July 2, 2010
In March of 2010, the Boucher Automotive Group expanded by building a standalone location on Highway 18 in Waukesha for their Hyundai brand, which was previously under the same roof as their Chevrolet location just a quarter mile down the road. With the move, longtime employee Dawn Gahlman was named the Sales Manager of Boucher Hyundai. After doing some research on the Hyundai brand, the match between Gahlman and Hyundai seemed destined.
Since 1998, Hyundai Motor Company has been helping kids fight cancer around the United States with their Hope On Wheels™ program. Every time a new Hyundai vehicle is sold in the U.S., $5 is donated to Hope On Wheels™. Hyundai donates the funds collected to over 40 children's hospitals across the country during the Hope On Wheels™ Tour. This year's tour will donate $2.1 million to support doctors engaged in childhood cancer research, making 2010 the largest single year of donations in the organization's history. At each hospital the Hope On Wheel™ Tour stops at, local children place colorful handprints on a white Hyundai Santa Fe to represent their courageous battles and share their hope with other children and families.
Pediatric cancer is a cause Gahlman is very familiar with; she is the mother of a childhood cancer survivor. When she heard about Hyundai Hope On Wheels™, the united effort of all 780 Hyundai dealers across the U.S. to raise awareness about childhood cancer, she wanted to get involved. Dawn's daughter, Alyssa, was diagnosed with leukemia just before her second birthday and endured over 3 years of chemotherapy and cancer treatment at Children's Hospital of Wisconsin.
As an advocate of the cause, Gahlman teamed up with the Miracle Marathon, hosted by Dave & Carole from WKLH. The 60-hour radioathon held annually, helps raise money for Children's Hospital of Wisconsin. During each year's radioathon, Dawn and Alyssa visit Dave & Carole to tell their story on-air and explain why donations to Children's Hospital are so necessary and encourage listeners to donate to Children's Hospital of Wisconsin. In addition, Gahlman has hosted numerous blood drives for Children's Hospital of Wisconsin at Boucher Automotive Group locations.
This year, with Gahlman's transition to Sales Manager at Boucher Hyundai, the pieces seemed to fall in place. Having a new potential donator in Hope On Wheels™, Gahlman contacted her representatives at the manufacturer to figure out how to get the attention of Hyundai Hope on Wheels. After weeks of waiting and rounds of paperwork, Gahlman received the ultimate news: Hyundai Hope on Wheels had agreed to a $50,000 donation to Children's Hospital of Wisconsin, in conjunction with WKLH's Miracle Marathon.
The same Hematology/Oncology Department that saved Alyssa's life received a $50,000 research donation
on July 1st, 2010. Childhood cancer patients and their families joined Hyundai and Boucher to present
Monica S. Thakar, MD, pediatric oncologist at Children's Hospital of Wisconsin, with a check for $50,000.
Dr. Thakar has been selected as a 2010 Hyundai Scholar and the donation will support her research optimizing
donor cells to combat high-risk blood cancers like leukemia. Alyssa, now a thriving 17 year old planning for
college, was amongst the children that placed a handprint on the vehicle. "Dr. Monica Thakar's research will
mean more children like Alyssa will survive their cancer, have less risk of relapse and complete their
treatment in a much shorter time frame", commented Gahlman.
The Boucher Family of dealerships owns and operates 15 dealerships representing 14 manufacturer lines throughout Southern Wisconsin. Recently, the Boucher Group was honored as #67 on the list of Top 125 Dealership Groups in the United States. They have a 30+ year history and are committed to providing a positive car-buying experience to all of their customers. They are active in many charities, the largest being the Muscular Dystrophy Association, as well as many local community organizations.
###