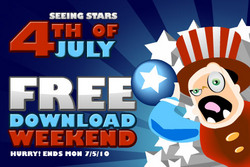 Red. Rubber. Danger.
San Francisco, CA (PRWEB) July 2, 2010
Robot Stampede, a mobile and social game studio, announces their hit arcade game for iPhone, Danger! Dodgeball, will be free from Friday, July 2 through Monday, July 5 in honor of Independence Day. Danger! Dodgeball is available Free at Apple's iTunes for the iPhone, iPad, and iPod Touch. The game is 4.5 star rated on iTunes and launched June 10 to a great response from players.
In addition to the Free weekend sale, Robot Stampede will also be giving away a $25 iTunes gift certificate to fans on Facebook and Twitter. To participate, follow @robotstampede on Twitter and retweet the sale information for a chance to win. On facebook, join the fan page for another chance to win. The winner will be selected on Tuesday July 5th. Robot Stampede will be updating Twitter throughout the sale event.
When playing Danger! Dodgeball the player controls a daring hero braving the treacherous court of no-rules dodgeball. Take on the ultimate dodgeball villain and test your survival skills with fast paced, non-stop, sports action. Flick your wrist to dodge curveballs, slow bombs, and other special attacks. Scoop up a downed ball and take aim to smash your opponent with high-speed rubber balls. Warning: villain may taunt you mercilessly.
A video trailer with Danger! Dodgeball gameplay is available on YouTube.
About Robot Stampede:
Robot Stampede became sentient in 2009 with its primary directive: to manufacture positive emotions though original video games. The robots spend most of their time doing important things like play-testing their games, and have hired a few human lackeys to do much of the menial labor such as vacuuming tubes, cleaning out keyboard jam, and crafting marketing flair.
The robots coerced Karim Sanjabi and Brian "Beej" Hall into permanent servitude. Both humans previously had worked for and with companies such as Freestyle Interactive, Electronic Arts, and Activision Blizzard.
# # #