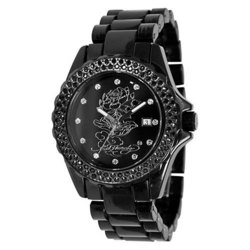 Ed Hardy, Hustler and Tapout are great brands offering quality products meeting the interests of our customers
Los Angeles, CA (PRWEB) July 12, 2010
KingIce.com, a leading e-commerce site featuring urban jewelry, accessories and clothing has recently added new product lines from Ed Hardy, Hustler and Tapout. Focused on providing diverse options to its customers, King Ice is expanding its business into the market of recognized brand names. Offering branded merchandise such as shirts, hats and watches address the overall interests of customers visiting KingIce.com. Combining products from established companies with an already thriving jewelry collection is expected to spurn increased sales.
Recognized worldwide as an apparel brand, Ed Hardy has delved into the world of jewelry with specialized offerings of Ed Hardy watches, pendants and rings. Hustler, one of the biggest players in adult entertainment, has expanded into apparel with a line of t-shirts, hoodies, shorts and hats emblazoned with bold, colorful designs. Tapout, a clothing company well known in the world of extreme sports, has released a line of uniquely designed sport watches.
"Ed Hardy, Hustler and Tapout are great brands offering quality products meeting the interests of our customers," said Jansen Davis of King Ice. "With these companies you'll find a good mixture or urban flavor and rock influences. It's perfect for our site."
Ed Hardy watches feature classic tattoo designs flaring with color and intricacy. Themes range from flowers, hearts and wings to animals, skulls and daggers. The Hustler apparel collection reflects the essence of Hustler with hardcore messaging and brash designs featuring graffiti art. Born of extreme sports, Tapout watches featured on King Ice embody the best of style and durability. All Tapout sport watches come with a 12 month guarantee.
About King Ice
Focused on affordability, King Ice combines quality and style at reasonable prices to hip hop jewelry consumers. King Ice features a great selection of men's jewelry and accessories including men's silver rings, bracelets, earrings and necklaces along with alternative metals, hats, bling watches and sunglasses. All products come with a 90 day warranty.
###