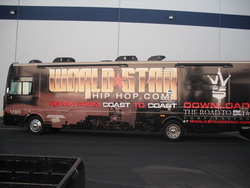 "Strip VIP is excellent." Q CEO of World Star Hip Hop
Los Angeles (PRWEB) July 2, 2010
While the site of the BET Awards 2010 represents the single largest stage in North America (this year's Viewer's Choice Award went to Rihanna), it was not enough to contain the evening's excitement.
From actress Lisa Raye, rappers Sean Kingston and Mario, to NBA stars Ron Artest and Amar'e Stoudemire, a continuous beeline of the best and the beautiful made their way into the flashing, luxury party coach.
Continuing a tradition of honoring and showcasing the industry's hottest stars in music, sports and entertainment, BET Awards 2010 produced another night of never-before-seen moments. As performances by Diddy-Dirty Money, Trey Songz, Nicki Minaj and Drake lit the stage inside; StripVIP kept the party purring outside.
"This is the most beautiful coach, I've seen," Ms. Raye said, as she waited to be interviewed by Kevin Black, impresario of World Star Hip Hop. Company Chief Executive Officer Q knew he had leased something special and different even in by tinsel town standards when he rented the night club-on-wheels. "We had a great time," Q said, "Strip VIP is excellent." Q found out it wasn't difficult bring his staff and celebrities together for his latest meet-and-greet video production. With music thumping from the 2000 watt sound system, lights flashed on the mobile disco floor, as more than one visitor took their turn on the custom dancer's pole in the coach's VIP room.
Draped in World Star Hip Hop's bold graphics, the cruising coach stopped passers-by in their tracks as it ferried celebrities, fans and the media from Jamie Foxx's post-event party to restaurants and night clubs throughout the evening before and after the event.
"Everyone says the same thing, once they see the coach," says Mr. Chomer, "'Can I come along for the ride?'" The good news for those would-be travellers is "yes" – all they have to do is book their own trip. And Mr. Chomer has made that abundantly easy with the launch of his latest venture, http://www.stripvip.com, a one-stop celebrity, entertainment and travel experience, with fully networked event-planning and fan news resources.
"Celebrity awards are only one of the many events we cater to," Mr. Chomer continued. "Strip VIP is also ideal for bachelor and bachelorette parties, weddings, corporate events, golf outings and group vacations."
For those leaving Las Vegas who don't want Las Vegas to leave them, Mr. Chomer also offers to take parties and organizations through the United States.
For business people looking for a unique way to shuttle clients, http://www.stripvip.com offers a memorable, if not downright unforgettable alternative to conventional travel. "We have everything you need to have a party, conduct a meeting, show a presentation or close a deal," Mr. Chomer concluded.
# # #