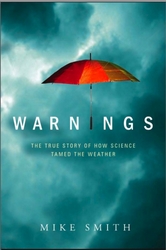 "The tornado warning system saves about 1,000 lives a year."
Wichita, KS (PRWEB) July 6, 2010
According to NOAA's National Severe Storms Laboratory (NSSL) June 30 marks the official end of tornado season with a near record low of 29 fatalities. The tornado watch and warning program which is managed by the NSSL, saves an estimated 1,000 lives per year in the U.S.
The 2010 tornado season was especially challenging for forecasters as tornadoes struck densely populated Detroit and Oklahoma City metro areas and crossed the entire width of Mississippi. "Absent warnings, the death toll would have been well into the hundreds. This is a remarkable scientific achievement", stated Mike Smith, extreme weather consultant with Mike Smith Enterprises. Smith is an expert on tornado impact and author of Warnings: The True Story of How Science Tamed the Weather.
Kevin Kelleher, deputy director of NOAA's NSSL says "NOAA is proud of its commitment to saving lives and property and continues to further improve its forecasts and warnings." NSSL scientists use weather information to assist National Weather Service forecasters and federal, university, and private sector partners during tornado season.
Media contact:
Mike Smith
Michael Smith Enterprises LLC
(316) 204-9969
http://www.mikesmithenterprises.com
About Mike Smith Enterprises, LLC
Mike Smith Enterprises, LLC, (MSE) is a consulting firm offering expertise on extreme weather and its effects on people and businesses. Mike Smith, owner of MSE, is author of the book Warnings: The True Story of How Science Tamed the Weather (Greenleaf Book Group, 2010) and numerous popular and technical articles. Smith is a professional speaker, has been granted 18 U.S. and foreign patents, and is a published photographer. Smith is the founder of WeatherData, Inc., which was acquired by AccuWeather in 2006, and now serves as CEO. http://www.mikesmithenterprises.com.
# # #