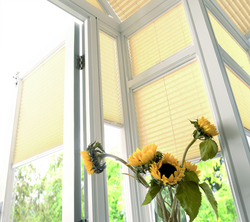 Visit Thomas Sanderson throughout July at RHS Hampton Court, The Royal Welsh agricultural show and RHS Tatton Park
(PRWEB) July 3, 2010
July will present several opportunities for property owners to find out more about conservatory blinds and other home improvements while attending a series of outdoor shows across the country.
Conservatory blinds manufacturer Thomas Sanderson, which also designs and supplies window shutters and window blinds, is set for a busy month thanks to the shows in which it will be showcasing some of its products.
Those who attend the Royal Horticultural Society (RHS) Hampton Court Palace Flower Show, taking place from July 6th to 11th, can get to speak to one of the company's representatives about the products. The show is packed with ideas on how to grow your own, nurture the environment and to make the most of your garden as well as featuring spectacular show gardens and horticultural exhibitors.
Later, between July 19th and 22nd, Thomas Sanderson will be among exhibitors showcasing products at the annual Royal Welsh Agricultural Show, which will be followed by another appearance at RHS Tatton Park, from July 21st to 25th.
A wide range of customisable conservatory blinds and window shutters, which are available in myriads of colour combinations and styles, can be ordered from Thomas Sanderson.
About Thomas Sanderson
Since 1991, Thomas Sanderson has grown from a family run business to an international company offering products and services throughout the UK and Ireland. The company is Europe's largest manufacturer and supplier of conservatory blinds in addition to supplying window blinds and window shutters.
Thomas Sanderson has remained true to its roots, offering a local service and continuing to make its relationship with each and every customer its main priority. The company takes pride in ensuring the standards of service on offer match the high standards of its products.
Established as the market leader for almost 20 years, Thomas Sanderson now offers businesses the opportunity to be associated with a national company, backed by local service. Thomas Sanderson has developed 'refer and reward' partnerships with over 1300 home improvement specialists, allowing them to offer their customers a complete range of products that add the finishing touches to any home improvement project, and with minimum fuss.
Posted by Helen Sanderson