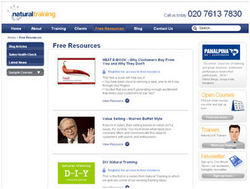 "Overnight our web visits tripled and those visits are now at longer than 5 minutes each, meaning users are enjoying a much longer, richer stay on the site. The most pleasing feedback is that we are providing valuable content in a user friendly format."
(PRWEB) July 5, 2010
The site has moved from a training-only site to a sales training, negotiation skills and presentation skills portal where users can download free information, keep up with the latest advice and interact with each other on the new blog.
Natural Training's Marketing Director Feena Coleman has seen a huge spike in website traffic since the launch: "Overnight our web visits tripled and those visits are now at longer than 5 minutes each, meaning users are enjoying a much longer, richer stay on the site. The most pleasing feedback is that we are providing valuable content in a user friendly format."
Natural Training's Managing Director Paul Owen agrees: "Sales is a living, breathing concept and role. We aim to be the number one provider of sales training in Europe before the Olympics, and to get there we have to take a leading edge position on the way sales is presented, discussed and consumed throughout Europe. Our cutting edge sales training courses, combined with the best trainers in the business, means that Natural Training customers will continually be treated to the best sales training on the market. Our new website demonstrates this with loads of free sales resources including e-books and podcasts."
To celebrate the new website Natural Training is giving away free training for a year! To take advantage of this offer, all you have to do is sign-up for Natural Training's free newsletter One Minute Pause before 17 July. One Minute Pause is a fortnightly newsletter with the latest selling advice and strategies.
If you would like to speak to a Natural Training consultant about some sales training, presentation skills training or negotiation skills training then please call on +44 (0) 20 7613 7830.
# # #