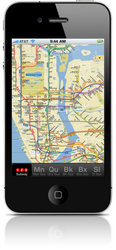 New York, NY (PRWEB) July 6, 2010
Densebrain, Inc, in collaboration with episode6, has released NYCMate for the iPhone and Android platforms. It is the first 100% free multi-platform mobile NYC Transit Map Application that allows the user to view the officially licensed MTA New York City Bus, Subway and Neighborhood maps.
NYCMate has developed from a library written by Densebrain for commercial use that had obvious social implications for residents of NYC at this point in time. Densebrain, Inc and episode6 joined forces and decided to use their existing technologies and user-base to aid New Yorkers without forcing them to pay for public information.
Less than a week after initial deployment there are 290,271 active users.
An Android user who works for the NYCT said, "you guys have done a fantastic job – I just wanted to say thank you. I think you have the #1 transit app out. I work for the NYCT, I should know."
Jonathan Glanz, principal and founder of Densebrain said, "NYC Residents and constituents have been in need of a free transit tool to aid them with all of their travel concerns for some time. While we are obviously in business to make money, this seemed like the wrong product to charge for. We simply hope the city appreciates us giving back a bit."
Geoff Hackett, principal of episode6 said, "Working with Densebrain has been amazing, and together we've turned something that started as a little weekend project into a full-fledged and beautiful mapping platform. We're offering more useful information in an intuitive interface, and it's only going to getter from here!"
"NYCMate is about the bus and subway system and I did not want to take away from this in any way." says Danika Landers, partner and creative director at Densebrain. "The design was made to be really simple and easy to navigate. Because there are so many maps, I did not want to add any extras that might get in the way of users accessing the information they need."
NYCMate is going to enable commuters to have all of the officially licensed MTA New York City Bus and Subway maps in the palm of their hand, for free- just in time for the new MTA service changes! Users can pinch or double tap to zoom, tap a station to view upcoming times (offline), and view the neighborhood maps with just a single tap.
ABOUT US: Densebrain, Inc is a bleeding edge technology firm with clients ranging from multi-national conglomerates to beauty manufacturers and logistics companies. Densebrain, Inc owns and operates several products as well as being one of the few Agencies truly on the cutting edge of technology. Founded in 1999 by Jonathan Glanz and joined in 2008 by Danika Landers Densebrain has surged to the forfront of mobile technology development both on the hardware and software front. Densebrain, Inc created and operated SitOrSquat (the world's largest bathroom finding service) as well as many other tools and projects and sees NYCMate as a great achievement.
For any comments questions or concerns please contact Densebrain, Inc at 212-255-6566.
Follow us on Facebook http://bit.ly/prfbnycm
Check us out on the web http://www.nycmate.com or http://www.densebrain.com
Densebrain, Inc.
itunes link: http://bit.ly/pressreleasenycm
###