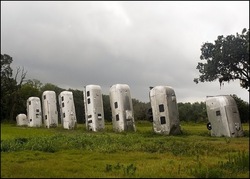 It's about time someone has given them Wonder status.
Portland, OR (PRWEB) July 8, 2010
Roadside attractions are hardly recognized at the worldwide level. It takes a special person to seek out the giant balls of twine and enormous fiber glass animals that grace the highways of the United States. To honor these road warriors, Excel Distributors, the purveyor of aftermarket RV mattresses, has created the 7 Wonders of the RV World, a list of the kookiest, most creative and completely sensational roadside attractions for roadtrippers to visit.
"In 2001, Bernard Weber fronted the campaign for the New 7 Wonders of the World to highlight the significant cultural feats of the contemporary world. We loved his vision and decided to spotlight some quirky wonders that didn't quite make it into his New 7 Wonders," explains Scott Oster, General Manager of Excel Distributors. "These are the wonders of the road."
The 7 Wonders of the RV World span across North America, with one pit stop in remote Alberta, Canada. Every Wonder is a roadside spectacle, be it the wall of Airstream trailers buried nose-down in Dover, Florida or the eclectic Official Center of the World in Felicity, California. Wood Buffalo National Park in Northern Alberta is home to the largest beaver dam in the world, a 2,790 foot structure that is visible from space. "Each of the 7 RV Wonders is spectacular, and deserves to be visited," says Oster.
"We love highlighting such a vivid part of our country's cultural heritage. RVs have been popular in the United States since the early-1900s, and roadside attractions have been around for even longer," says Oster. "It's about time someone has given them Wonder status."
Explore all of Excel Distributor's 7 Wonders of the RV World.
About Excel Distributors:
Excel Distributors is the online purveyor of quality RV mattresses, RV mattress protection pads and RV pillows. Dedicated to customers wishing to improve the overall quality of the RV they currently own, Excel specializes in the RV Aftermarket. Excel is located in Portland, Oregon, and is proud to be the premier online distributor for RV mattresses, RV pillows, and RV bedding. The goal: to provide a seamless purchasing experience for every customer looking to bring the comforts of home along for every trip.
###