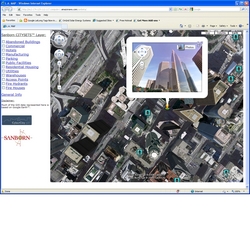 The combination of Sanborn's vast experience and strong relationships combined with CyberCity's cutting-edge technologies is a perfect fit.
El Segundo, CA (PRWEB) July 6, 2010
CyberCity 3D, Inc., a state-of-the-art 3D geospatial modeling company based in El Segundo, CA and international geospatial solutions provider The Sanborn Map Company, headquartered in Colorado Springs, CO, today announced they will launch the first of a series of products resulting from their recent partnership at the annual ESRI International User Conference in San Diego, CA July 12th through the 16th.
The Sanborn Emergency Response Maps website combines Sanborn's detailed CitySets and CyberCity 3D's data integration to provide critical building and surrounding area information through the power of the Google Earth™ API plug-in. The site (http://www.cybercity3d.com/sanbornermaps) offers maps in 3D on Google Earth™ through its API plug-in, in 2D on Google maps™ in Google Street View™, and via satellite imagery.
This engaging map can be customized for a variety of uses for entities including Emergency Medical Services, Police Departments, Fire Departments, Utilities, and Public Safety. Available data includes specific building types and locations; emergency exits; fire hydrant/fire house sites; utilities; and parking.
"We look forward to working with Sanborn to deliver new and engaging public services web mapping sites. The synergies between the two companies are quite complimentary. Web mapping is undergoing great change and the combination of Sanborn's vast experience and strong relationships combined with CyberCity's cutting-edge technologies is a perfect fit," CyberCity 3D CEO Kevin DeVito stated.
"Sanborn and CyberCity 3D combined now have the largest online catalog of 3D structures. Coupled with the advanced web application services, we are even more capable to meet and exceed our customers' requirements today and in the future," said Robert Lega, Sanborn Products Manager.
The CyberCity 3D / Sanborn alliance enables the companies to provide groundbreaking GeoWeb solutions like the Sanborn Emergency Response Maps to a variety of government agencies and geographic information system (GIS) services as well as data products.
The CyberCity 3D/Sanborn collaboration integrates the two companies' 3D libraries to bring clients more 3D choices and high quality, cutting-edge web solutions-- including those built around the Google Earth™ API platform.
In their continuing partnership, the companies plan to create more merged products involving web publishing and planning.
About CyberCity 3D, Inc.:
CyberCity 3D (http://www.cybercity3d.com) specializes in emerging GeoWeb solutions for government agencies, the environment, geographic information systems (GIS), and travel destinations, as well as commercial and residential real estate. The Company also develops 3D, web-based, energy efficiency applications in addition to green house gas (GHG) information-gathering and computing tools designed to assist municipalities, utilities, and environmental agencies in their implementation of environmentally sustainable programs. CyberCity 3D is one of the first to offer realistic, three-dimensional, building and city models through the Google Earth™ API plug-in.
About Sanborn Map Company, Inc.:
Sanborn (http://www.sanborn.com) has been delivering quality geospatial solutions to clients worldwide since 1866. Sanborn provides high value solutions for mapping and geographic data, imagery and spatial analysis, custom applications, system integration, data management, and outsourcing as well as advanced web-based information systems, 3D modeling and visualization systems for customers worldwide.
###