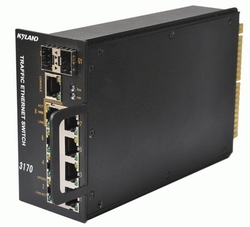 "The SICOM3170 Traffic Ethernet Switch is the best switch on the market - Bar None. It saves energy, inexpensive to operate, is the fastest, and out performs ALL the other switches. Fantastic for crowded traffic cabinets" -DOT Testing Engineer
Blue Springs, MO (PRWEB) July 6, 2010
Kyland-USA announces that its Kyland SICOM3170 Switch has been selected by the City of Wichita, Kansas. The multi-million dollar Intelligent Traffic system project will install approximately 500 of the Kyland SICOM3170 Ethernet Traffic Switches. By using the SICOM3170 switch designed for use in a detector rack – the City of Wichita will save $20,000.00 annually in electricity costs alone compared to other products. The SICOM3170 uses just 7.2 watts in operating power. The Intelligent Traffic Project puts the City of Wichita in the forefront of the GREEN REVOLUTION and 21st Century Traffic Systems. When the traffic project is completed the City of Wichita, Kansas will have one of the most advanced traffic systems in the United States. The SICOM 3170 switch was selected as the winner in the following categories of switch selection:

Green Operation – Using the Kyland SICOM3170 the City of Wichita saves $20,000.00 annually in electricity costs. (Smallest Carbon footprint of any Industrial Ethernet Switch)
Ease of Installation – the SICOM3170 can be fully installed in less than 1 minute. This saves on both installation and maintenance costs.
5 Year Warranty – Kyland's products come with a full 5 Year Warranty (not a fake lifetime warranty)
Green Manufacturing – RoHS manufactured
Best Performance – best performance of any Industrial Switch in throughput and features
ROI – Based on electricity and installation costs – the SICOM3170 pays for itself in annual cost savings.
Best Temperature Ratings and IEC Certifications
Best EMI or Electromagnetic Interference Rating (EMI Industrial Level 4)
Best Ingress Protection – IP40 Certified
IEC 61850 Certified / IEEE 1613 Certified
Called the "SICOM3170", this Managed Ethernet Traffic switch offers a significant increase in the application and bandwidth capabilities of the highly configurable Kyland SICOM line of Managed Industrial Ethernet switches. This is the perfect traffic switch for the deployment of bandwidth-intensive applications such as internal and external video surveillance at traffic intersections and regional control systems. This network switch can be installed in less than 1 minute into any traffic cabinet with an open dual slot in a detector input chassis. Clean filtered power is provided directly from the back-plane of the detector chassis and eliminates adding to the mess of additional power supplies and power cables within the traffic cabinet. The SICOM 3170, developed and engineered in Kansas City, Missouri, is the easiest and fastest to deploy Industrial Ethernet network switch.
Supports 2 One Gigabit – SFP Ports for broadband connectivity
Supports 1 RJ45 10/100/1000 Port
Supports 7 RJ45 10/100 Ports
Available for both 12Vdc and 24Vdc cabinets (12Vdc is for NEMA cabinets)
EZ Installation (slide it into the chassis and it immediately powers up)
Operating Temperature: -40 to 85°C (-40 to 185°F)
No Power supply or electrical connections to worry about (Saves time & $$ on installation costs)
It Saves Space in already overcrowded cabinets and shelves.
Easy IP-addressable connectivity
Ultra-Low Power Consumption, the switch uses less than 8 Watts
4th Generation Custom ASICS for high reliability and low power consumption
Supports both Rapid Spanning Tree and DT Ring for Redundancy
Compatible with the interface requirements in the Caltrans TEES (170/332) specification.
RoHS (Green product in design, manufacture and operation)
Self diagnostics on power-up
Rapid Spanning Tree Protocol (RSTP)
Command Line Interface (CLI) or HTTP Web Interface
High-energy transient port protection (IEC 61850 Certified)
IP40 Protection / IEC61850 Certified
35 Year MTBF / Developed and Engineered in Kansas City, Missouri
5 Year Warranty
The SICOM 3170 Industrial Ethernet Switch is ideal for conditions where the switch must handle combinations of data traffic and high priority streaming video traffic, such as security cameras, VoIP, and priority data devices. User selected combinations of 1-Gb ports with fiber or auto-negotiating copper ports and 10/100 fiber or copper ports, give the SICOM 3170 the flexibility to provide the bandwidth required for a variety of traffic applications.
The SICOM 3170 Managed Industrial Ethernet Switch exceeds both the IEC 61850 and IEEE 1613 industry standards for traffic, substation and automation products. Hardened for harsh traffic control and substation applications, the Kyland SICOM 170 Industrial Ethernet Switch is reliable at extended temperatures and has an EMI-resistant metal casing.
Environmental Limits:
Operating Temperature: -40 to 85°C (-40 to 185°F) Storage Temperature: -40 to 85°C (-40 to 185°F)
The Kyland SICOM 3170 uses Kyland's powerful Kyland Industrial Operating System (KIOS) software that provides unsurpassed management, capabilities, security and redundancy. The KIOS software is designed for ease-of-use, offering features that include a GUI interface, secure web management, SNMP v2/v3 management control, 802.1p QoS Packet Prioritization, Port-based VLANs, and IGMP snooping and for managing IP multicasts. Kyland supports RADIUS and TACACS+, port security, a choice of multiple redundancy options including Dual Homing, Link-Loss-Learn, Rapid Spanning Tree (RSTP), as well as Kyland's rapid-ring-recovery DT-Ring and DT+ Ring products. The product also comes with KyVision Management software for large scale network deployment and ease of use. Both KIOS and KyVision software are part of the EZ Traffic Networks™ family of products.
Kyland products are marketed worldwide through a network of direct sales, resellers, system integrators, manufacturers' representatives, and international distributors.
All of our Kyland products are available for immediate delivery. All Kyland products come with a 5 Year Warranty and a 35 Year MTBF. OEM and Private Label inquiries are welcome for any Kyland Product. We also provide custom engineering and manufacturing for non-Kyland products. More information is available on the company's website:
http://www.Kyland-USA.com/
About Kyland-USA:
Kyland-USA is headquartered in Kansas City, Missouri and is the Distributor for Kyland Technology in the United States, Latin America and Canada. The company is well known for its leading edge technology products in the Industrial Ethernet marketplace. We build the largest SCADA networks, in the harshest environments – around the world. The company also does OEM manufacturing of Industrial Ethernet products as well as the Private Labeling of products for various manufacturers and resellers. For more information on Kyland-USA and its SICOM™, KIEN™, KIOS™, KyVision™ and EZ Traffic Networks™ product lines, visit or contact the company at our web site located at:
http://www.Kyland-USA.com
About Kyland:
Kyland is the industry leader in providing cost-effective, configurable Industrial Networking products for harsh and demanding environments. Kyland is the world's largest manufacturer of Industrial Networking Products and special purpose application products. Kyland manufactures the number 1 rated - hardened Industrial Networking products which excel with fiber capabilities for challenging industrial applications in manufacturing, power utility substations, telecommunications, oil and gas pipelines, traffic control and industrial video surveillance. The company manufactures hundreds of configurable products that address practical applications that previously required custom or expensive proprietary solutions. Kyland provides the most comprehensive Industrial Network Architecture in the world, surpassing the capabilities of any other manufacturer. Only Kyland Industrial Ethernet Products Scale to 10 Gigabit links with backbone switches capable of accommodating 196 gigabit connections. Our network offerings include a switched Ethernet core, distributed edge devices for both Ethernet and Serial protocols. For more information on Kyland and its SICOM™, KIOS, KIEN™, KyVision™ and EZ Traffic Networks™ product lines, visit or contact the company at our web site located at:
http://www.Kyland-USA.com
For More Information on the new SICOM3170 Switch / EZ Traffic Networks™ family - Please Contact:
Kyland-USA
Headquarters
1107 SE Willow Place
Blue Springs, MO 64014
816-256-2477
Thomas West
Vice-President, Sales
Kyland-USA
816-214-1946
http://www.kyland-usa.com
Pedro Zamora
President
Kyland-USA
816-679-3968
http://www.kyland-usa.com
###