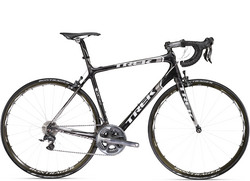 "At Trek, we're constantly striving to improve upon every design" - Trek Product Manager, Tyler Pilger
Rotterdam, NL (PRWEB) July 5, 2010
Trek Bicycle, the world leader in bicycle technology and innovation, officially launched its highly anticipated model year 2011 line of Madone bicycles today. Unveiled against the back drop of the 2010 Tour de France's Grand Départ, the incendiary new Madone 6 Series SSL was the brightest shining star of the evening. Comprised of a revolutionary new carbon material, OCLV HexSL Carbon, the 2011 Madone 6 Series SSL establishes a new benchmark for carbon-framed bicycles and represents the lightest road frame the 9-time Tour de France winning company has ever produced.
While Friday's launch was the public's first introduction to Trek's new SSL model, the new Madone has already begun establishing its own winning legacy. The SSL propelled Team RadioShack's Jani Brajkovic to an overall win at the 2011 Tour of Dauphine in June, resulting in the Madone SSL's first stage race win. Team RadioShack's entire 2010 Tour de France squad will be riding the Madone 6 Series SSL throughout July.
"At Trek, we're constantly striving to improve upon every design," remarked Trek Road and Tri Product Manager Tyler Pilger. "At the start of last year's Tour, we unveiled a technological milestone for our company, the Madone 6 Series. For 2011, we've refined our design and manufacturing process even further. The result is a frame so light we decided to bring back our SSL designation—one we save for bikes that offer truly revolutionary light-weight performance."
At the crux of the new Madone 6 Series SSL lies Trek's latest carbon fiber milestone, OCLV HexSL . "OCLV HexSL is really a game-changing material," said Trek Road Product Engineer Chris Pomering. "Before this material's culmination we had to use two, sometimes three different layers of carbon to get the same strength and performance that we get from just one layer of OCLV HexSL."
When compared to High Modulus carbon fiber, OCLV HexSL Carbon exhibits virtually the same stiffness but over four times the strength and twice the elongation properties, enabling Trek engineers to drop more than 100 grams of fuselage weight from the previous Madone 6 Series frame while maintaining the same award-winning ride characteristics.
Although Trek is the first bicycle company to utilize the technological advances of OCLV HexSL Carbon, it's unlikely other bicycle manufacturers will soon follow suit. The U.S. Government has designated raw HexSL fiber as a defense grade material, making it illegal to ship outside the NATO alliance. As the largest domestic manufacturer of bicycles, Trek is well equipped to manufacturer its new SSL in the States, and has already declared the new Madone 6 Series SSL platform will be built exclusively at Trek's Waterloo, Wisconsin production facility.
While materials are responsible for many of the Madone's race-proven ride characteristics and unprecedented light weight, the line also draws upon a myriad of proprietary technologies, including a super wide and stiff integrated BB90 bottom bracket for superb power transfer, an E2 tapered headtube and fork for confident cornering and control, a frame-integrated DuoTrap speed and cadence sensor for seamless, zip tie-less installation, and fully internal cable routing that is optimized specifically for Shimano's Di2 electric drivetrain.
To provide its customers with unparalleled control over every aspect of their bike's configuration, Trek will be offering all 2011 Madone 6 Series and Madone 6 Series SSL models through its custom bike program, Project One.
"Project One puts the rider in the designer's seat," said Dean Gore, Global Director of Marketing at Trek. "With virtually limitless possibilities, it's never been easier to build your Dream Bike."
To complement its "Dream Bike" mantram, Trek also announced a new fit paradigm for the Madone road bike line. Available in 9 different sizes and 3 different fit geometries for 2011, the new Madone line is designed to meet the fit needs of more riders than any other road bike line on the market.
"There is a direct correlation between proper bike fit and peak performance," said Trek Road and Tri Brand Manager Nick Howe. "With three distinct fit options, our 2011 Madone line will help more riders perform at their highest levels. Whether you're looking for the most aero position, you prefer to sit as upright as possible, or anywhere in between, there's a Madone that will fit you."
While the 6 Series SSL is the new pinnacle of the Madone line, Trek was equally excited to announce an all new Madone 5 Series platform. At more than 150 grams lighter than the 2010 version, Trek's 2011 5 Series Madone now incorporates the same technologies as the vaunted Madone 6 Series while providing riders with an unmatched best in class value. In addition to shaving a significant amount of fuselage weight, Trek's Madone 5 Series boasts a 15% increase in front end stiffness and a 43% increase in vertical compliance for the 2011. The Madone 5 Series will be available in 5 different models, including the 5.9, 5.5, 5.2, 5.5 WSD, and the 5.2 WSD.
Trek's race ready, value-conscience Madone 4 Series line received updated styling and augmented features for 2011 as well.
"This is an exciting time for Trek, our Retailers, and our customers," remarked Trek President John Burke. "We've never been more invested in our product development, and those investments are yielding the most advanced products Trek has ever offered. The 2011 Madone product line represents the collective effort of many individuals. I've very proud of what we've accomplished."
For more information on Trek's 2011 line of Madone bicycles, visit http://www.trekbikes.com/madone.
Trek Bicycles are sold exclusively through Authorized Trek Retailers. To find the Trek Retailer nearest you, visit http://www.trekbikes.com.
About Trek Bicycle:
Trek Bicycle is a global leader in the design and manufacture of bicycles and bicycling related products and accessories. From Tour de France-winning road bikes to tricycles designed to introduce the next generation of riders to the possibilities of pedal-power, Trek has a bike for nearly every rider. Trek believes the bicycle can be a simple solution to many of the world's most complex problems, including obesity, traffic congestion, and climate change, and is committed to breaking down the barriers that prevent people from using bicycles more often for daily transportation, recreation, and inspiration. For more information about Trek, visit http://www.trekbikes.com.
###