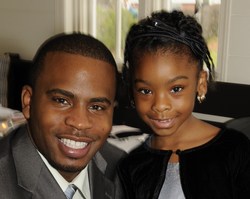 "I have the best of both worlds now because she loves music and will very often come to my recording sessions. I am including her in what I love to do; we even did a song together called Dear Amya."
Brooklyn, NY (PRWEB) July 6, 2010
New York, NY (PRWEB) July 6, 2010 -- Hip Hop artist FACE THA MUSIC was a guest on the Hot 97 show— Street Soldiers—hosted by Lisa Evers on June 20, 2010, at 9am. Airing on Father's Day, the show's topic was about how fathers need to take responsibility for raising their child, the importance of their role as a father as it relates to the impact it has on their child's life and New York City programs available to single fathers and mothers that protect the best interest of their child.
Other guests on the show included Frances Pardus-Abbadessa—Deputy Commissioner of the New York City Human Resources Administration, Israel Rosario, Jr.—Executive Director of Parent Resources of the New York City Human Resources Administration and Dr. Jeff Gardere of VH1's "Dad Camp" TV show.
FACE THA MUSIC brought up the perspective of a single father who takes the responsibility to help raise his daughter with her mother. In fact, he put aside his career in the music industry for 6 years because he believed it was important to focus on that bond with her and did not want the demands of his music career interfering with his role as a father.
"I never regretted leaving the music industry to help raise my daughter," says FACE THA MUSIC. "I have the best of both worlds now because she loves music and will very often come to my recording sessions. I am including her in what I love to do; we even did a song together called Dear Amya."
The full episode can be listened to by visiting http://www.hot97.com/streetsoldiers/ and clicking on the June 20, 2010 podcast. Lisa Evers of Street Soldiers opens the mics every Sunday from 9am to 10am for a roundtable dialogue about the most critical and hottest issues affecting the hip hop community. Using street contacts and sources, she gets guests and listeners to tackle a wide variety of topics ranging from police brutality, drug abuse and safe sex to gang violence and racial profiling. The show tackles the most important issues facing the community as it happens.
Street Soldiers' producer, Tone Capone, chose FACE THA MUSIC for this particular episode because "he has demonstrated good values, giving up what he loves so that he can help raise his daughter. That's what it's all about."
The New York City Human Resources Administration (HRA) have two initiatives underway: NYC DADS—an ongoing program that hosts an informational website with opportunities for fathers to engage with their children at little or no cost, and the "Man Up to Child Support" radio campaign which reaches out to parents to educate them on child support and other services to assist families.
The HRA believes that fulfilling the emotional and financial responsibility to their children is one of the most effective ways children stay out of poverty. Dads who pay child support tend to also be more involved with their children, and involvement leads to children less likely to use drugs, engage in criminal activity and be suspended from or drop out of school.
Dr. Jeff Gardere's "Dad Camp" airing on VH1 works with fathers who do not take responsibility for raising their kids, aka "deadbeat dads", attempting to change their behavior by making them understand the importance a father has in a child's life.
Face Tha Music's new single—My Favorite Song—is now being circulated to the music industry with rave reviews and will soon be released to the public. One well known DJ said the song "will rock the club" and another said "this could be my favorite song." A music video of My Favorite Song will be released August, 2010.
You can learn more about FACE THA MUSIC, and hear 14 tracks by going to his website, http://www.facethamusic.com and visiting him on http://www.myspace.com/facethamusic and http://www.twitter.com/facethamusic.
###