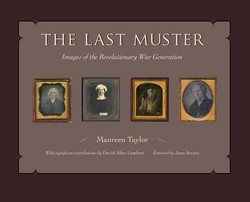 "I wondered if it was possible to use photographic and documentary evidence to recreate the first generations of Americans—those men, women, and chil¬dren bound together by having lived during the Revolutionary War,"
Westwood, Massachusetts (PRWEB) July 5, 2010
Just in time for the 234th celebration of American independence, history and photo buffs have a new source of historical intrigue. The Last Muster: Images of the Revolutionary War Generation (Kent State University Press, $45), makes an amazing photographic addition to the history of the early Republic.
"I wondered if it was possible to use photographic and documentary evidence to recreate the first generations of Americans—those men, women, and chil¬dren bound together by having lived during the Revolutionary War," says the book's author, photo historian Maureen Taylor. "While there were many images in public collections or owned by collectors, I knew through my work as a curator and as a collector that there were likely even more in private family collections."
A remarkable work of documentary history, The Last Muster is a collection of rare 19th-century photographic images—primarily daguerreotypes, ambrotypes, and carte des visite paper photographs—of the Revolutionary War generation. This extraordinary collection of images assigns faces to an un-illustrated war and tells the stories of our nation's founding fathers and mothers, updating and supplementing research last collected and published more than a century ago.
In her comprehensive introduction, author Maureen Taylor explains how she came to this project and collected the images. She also describes her exhaustive primary source research involved in dating and identifying each image and investigating the story and genealogy of each subject. The array of 70 images is expansive, including veterans, loyalists, Native Americans, African Americans, children who witnessed battles and aided soldiers, and women who nursed the wounded and even took up arms themselves. Although the faces that gaze at the reader are old and wizened, the stories they tell are of youthful bravery in the young days of the republic.
The Last Muster is a much-needed contribution to the history of the American Revolution, the early republic, and the history of photography. Through these portraits and the accompanying narrative, readers will have the opportunity to relive the Revolutionary War.
Maureen Taylor is an internationally known expert on photo identification. She travels extensively giving presentations on photo identification, photo preservation, and family history. She has been featured in The Wall Street Journal, on NBC's Today Show, ABC's The View, and on NPR.
###