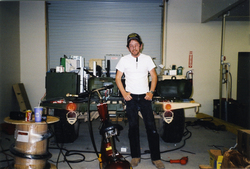 "This is power from electricity but no batteries, and no emissions, so no pollution"
Waco, TX (PRWEB) July 5, 2010
In a recent demonstration, Pete sumaruck put in 5,100 Watts into his power production system. He got back out 49,200 Watts, using the same 3 drives as the April demonstration, and the same 12kW generator, powering 8 motors, heaters, air conditioners and lights. 21.5 amps in, and 205 amps out. 208 Volts AC in, 208 Volts out. Pete adds additional drives to the same 12kW generator which in turn produces more power.
This technology disproves Ohm's Law and the Laws of Thermodynamics. All Physics textbooks will need to be rewritten.
Mr. Sumaruck built his first prototype in 1989 when drives were analogue, but even from the very beginning, he always measured more energy out than he put in. Now his results are a thousand times more astounding. See http://www.zeroamptech.com/history.html for the history of Peter Sumaruck's technology, and an radio interview with Mr. Sumaruck by James Robey from the Water Fuel Museum http://www.blogtalkradio.com/waterfuelmuseum/2009/06/20/peter-sumaruck
Because Peter Sumaruck's power production units use electricity without the need for batteries, there are no emissions, so no pollution. See http://www.zeroamptech.com/objectives.html for technology objectives.
Power can now be produced inside a building without the need for transmission lines. Take this technology to a war zone like Iraq, where the constant complaint is that city power is continually going out - with Zero-Amp Tech, you have power 24/7, no transmission lines and no diesel, ever. That's enough to end a war, right there.
The applications of this power production system are vast. If you can imagine it, it can be powered by Zero-Amp Technology.