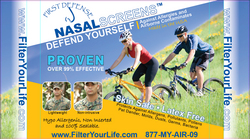 Washington D. C. (PRWEB) July 4, 2010
First Defense Nasal Screens (FDNS) a United States Company and an undisclosed U.A.E company filed final U.S. State Department authenticated contracts to the U.A. E Embassy in Washington D.C Thursday morning July 1st for legalization and final registration. The contract provides and grants exclusive distributorship rights in the Arab world. Countries included in the contract are United Arab Emirates, Oman, Qatar, Saudi Arabia, Bahrain, Kuwait, Iraq, Yemen, Iran, Syria, Jordon, Lebanon, Egypt, Tunisia, Algeria, Libya, and Morocco.
With so many potential markets and over 325 million Arabs in the world today this early foresight should prove to create a new billion dollar market for a commodity as big if not bigger than any in the world, (cleaner air everywhere).
First Defense Nasal Screens (http://www.filteryourlife.com) are an inexpensive, non inserted, self adhesive revolutionary product that are changing the way people of the world face the ever growing problems of reduced air quality. From allergies to pollens to pollution these screens provide the ability for every person in every environment to breathe cleaner, healthier air. FDNS has been proven to reduce the inhalation of particle matter by up to 99% on microns sized 10 or larger and 92% at just 1 micron, providing a natural alternative to the inhalation of a vast number of nasal inhaled dangers that we as a human race face every day, while reducing the major expenses and side effects and needs for medicines.
First Defense Nasal Screens is currently entertaining and offering similar contracts Worldwide.
###